Over the past decade, corporations have moved away from traditional corporate social responsibility – a 'nice to have' – to corporate sustainability, now an imperative that is embedded in a corporation's systems, practices and products. This year, the Social Impact Club launched its Corporate Sustainability and Innovation (CSI) pillar to signify the increasing push for corporate investment in sustainability. One focus of the CSI pillar is to highlight leading companies in the sustainability arena. By expanding our mandate to focus on Innovation, we wanted to expose innovative ways corporations are pushing for sustainability and give LBS students a stake in innovating on the problems corporations face.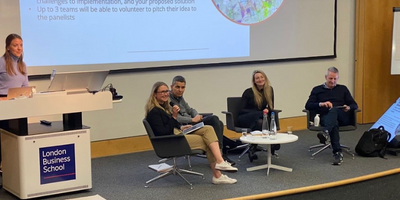 This year CSI hosted an inaugural Sustainability Innovation Lab; a platform bringing students, corporations and partners together to ideate solutions in response to a real, current problems faced by corporations. We were thrilled to host Global Sustainability Director, Clive Allison, and Behavioural Science Director, Richard Wright, from Unilever and Global Impact Entrepreneurship Leader, Jessie Coates, from EY. TRANSFORM is a unique joint initiative led by Unilever, the UK's Foreign, Commonwealth & Development Office (FCDO) and EY. It was initially created in 2015 by Unilever and FCDO as a response to the call for alignment and cooperation across geographies and sectors to tackle the UN's Sustainable Development Goal (SDG) 17. SDG 17 recognizes that actions – both positive and negative – will affect outcomes across other sectors and SDG areas and thus the public, private and civil society sectors must work together through innovative partnerships to unlock full opportunity across global value chains.
TRANSFORM specifically focuses on meeting the needs of low-income households by supporting market-based solutions driven by local entrepreneurs. To kick off the Lab, the TRANSFORM team shared key insights with the participants, drawn from their experience in supporting 60+ projects across emerging economies in accessing more than £20 million in follow-on funding. Participants were then challenged to practice hands-on ideating, pitching and receiving feedback around a key problem that Unilever is actively working to address within its product and operations: achieving a waste-free world.
Importantly, the key takeaways outlined by the TRANSFORM team are valuable to other corporations, social entrepreneurs or potential public sector partners seeking to unlock scale for sustainable innovation.
Strive for system change, not nudges – challenges such as achieving a waste-free world require systematic change, reinvention and bold thinking instead of small shifts.
Defer to the Customer's Voice – Behaviour change expert Richard Wright, from Unilever's Sustainability team, emphasized the importance of trusting local innovators and entrepreneurs who know and understand the market better than external consultants or foreigners. A low-income customer has a different set of needs and desires that one, especially foreign to that market, can't assume but rather must seek to understand through customer interviews and testing.
Innovation in the form of business models – market-based solutions are important for sustainability and scale. By integrating sustainability directly into business models, greater change can be made.
Deliver value to customers not beneficiaries –sustainability implementation is not a one-size-fits all solution. Work directly with customers to derive solutions that will bring value and incentivise them to change their behaviour. Importantly low-income customers should be treated as customers with a prioritized say in solutions rather than beneficiaries or recipients of handouts.
Partnerships for scale – consider your organisation's strengths and if/how they can be supplemented by partnering organisations. By joining forces, increased resources can lead to more change faster. In the case of TRANSFORM, investee companies received an invaluable combination of focused business support, flexible grant funding and access to Unilever brands or supply chains.
---
To learn more about TRANSFORM and their investees visit: https://www.transform.global/flagship-report/
If you are a corporate, social entrepreneur or public sector partner interested in joining an upcoming Sustainability Innovation Lab, contact Rebecca Stark within the CSI team at rstark.mba2023@london.edu.
Stephanie Bandyk (MBA '22) and Rebecca Stark (MBA '23) co-lead the Corporate Sustainability & Innovation Pillar in the LBS Social Impact Club.
---