A reflective essay by Liz Wolohan, MBA 2022 and lead of the student-led LBS 2021 Social Impact Conference.
In the summer of 2019, when I was considering which MBA program to attend, I knew that a strong social impact component was a personal requirement for my future school. During my bachelor's study of finance and economics, despite a lifelong passion for social impact, I focused solely on traditional, "mainstream" job opportunities, and I resolved not to make the same mistake in my master's programme. Fortunately, London Business School's mission is to have a profound impact on the way the world does business and the way business impacts the world.
Therefore, even before I arrived in London, I was already determined to be an active participant in LBS's social impact club. This ambition was realised when I selected to lead the 2021 Social Impact Conference, the flagship event of Social Impact Week.
The school's entrance into convening on this topic was short but rapid. In 2019, LBS's Social Impact Club organized its inaugural conference with the theme, "Invest for Good" with representatives from BlackRock, Hermes, Deloitte, and UBS. The following year, the conference's encore, "Leaders for Change", created a dialogue among companies such as Levi Strauss & Co, Fairtrade Foundation, and Unilever.
Throughout the autumn term, we planned when and how we wanted the conference and the theme that we wanted to focus the discussion on. Never ones to back down from a challenge, our team eventually decided to expand from a single, in-person evening of speakers like years prior to a two full-day, virtual event.
From the get-go, I felt passionate about ensuring that the Social Impact Conference would appeal to and resonate with the entire LBS community, rather than concentrating specifically on the fraction of students who actively participate in the club and want to pursue careers in social impact. I felt that, given the global wake-up-calls of the COVID-19 pandemic and the Black Lives Matter movement in 2020, we should be encouraging all students, regardless of their future career plans, to embrace the concept that business can and should create a positive net effect on the world.
Therefore, after months of ideation and refining, we titled the 2021 conference "Reinventing the Mainstream", which would be a call to action for business stakeholders to fully integrate social and environmental priorities into their strategies for success. While the case for social agency had been proven over decades through research and practice, we knew it was still far from being adopted as the mainstream business norm.
After finalizing the theme, we spent the majority of December arranging what to present over the two days to convince our audience of the powerful potential of business to address the world's most pressing social, environmental, and economic challenges. We determined to use the first day as a primer to bring the crowd up to speed on the history of business's involvement in social impact and why now must be the time to fully embrace this concept. We would then use the second day to spotlight a few industries—finance, fashion, and tech—that are popular pathways for LBS students to pursue and are also at the crux of pressing societal and environmental challenges.
Over the first two months of 2021, our team worked tirelessly to secure a diverse slate of thought leaders, including representatives from FTSE 100 companies, government institutions, NGOs, entrepreneurship, and academia. We certainly improved our skills at cold-calling, but we were also incredibly grateful for the LBS faculty and students who offered personal connections to speakers along the way.
Below, I've provided a brief description of each of the sessions. The majority of these discussions will be published on the London Business School's YouTube channel, contingent on approval from the speakers.
Welcome Address in Celebration of International Women's Day
The purpose of the first day, which coincided with International Women's Day, was to open a conversation around where mainstream business finds itself today and to underline the need for mindset shift around social accountability. We were honoured to have London Business School's Dean, François Ortalo-Magné, open our conference by interviewing Charmian Love, co-founder of B-Lab UK, on how to move from a binary to a blended world—whether regarding the role of women in business or the role of business in society.
Revising the Business Case for Social Impact
Serial social entrepreneur and founder of the global Social Founder Network, Caroline Diehl, then discussed the concepts of trust in and responsibility of business. This session acted as a primer for the audience to understand the progress achieved so far and the distance yet to go in incorporating social progress into business accountability.
COVID-19 Revealed Systemic Gaps and Innovation Potential
Professor Ioanis Ioannou and Bruno Roche, founder and executive director of Economics of Mutuality, discussed how COVID-19 provided an opportunity for businesses to step up as members of the society. While there were examples of businesses that answered this call, the unprecedented public scrutiny demands a re-design of capitalism with environmental and social sustainability in focus after the pandemic.
Change through Individual Activism
Next, Stacie June Shelton, the Global Head of Education & Advocacy at Unilever spoke on how to be an agent for good within a large, traditional corporation and how to choose an employer based on their values. She was joined by Shalini Chudasama, Prerna Wadikar and Chaitanya Nallaparaju, students from LBS, Oxford Said Business School, and the University of Cambridge Judge Business School (respectively), and interviewed these three students who have already made strides toward change in their professional environments.
Change through Education Innovation
Because education has been one of the hardest issues for the private sector to tackle due to the long-term nature of investment, we wanted to keep this topic in focus, as educating the future labour force will affect every sector.LBS Professor Elias Papaioannou, co-Academic Director at the Wheeler Institute moderated the incredible panellists: Jaime Uzeta, CEO of Public Allies, Farida Lambay, Co-Founder of Pratham Education Foundation, Matt Greenfield, Managing Partner of Rethink Education to understand various perspectives on how to create a more inclusive workforce and break the cycle of poverty through innovation in education. On this global panel, which spanned from Mumbai to Los Angeles, one comment stood out: Farida Lambay saying, "the right to schooling is not necessarily right to learning." She underlined that regardless of geography, we need to ensure we are meeting students where they are and speaking their language to make the most of the education system.
Lessons from Female Micro-Entrepreneurs
To kick-off Day 2, we partnered with our sponsor, the Wheeler Institute for Business and Development, and Dharma Life, for the Voice of the Village. In an innovative structure that included two-way live translation, the Wheeler Institute and Dharma Life brought together rural Indian female entrepreneurs with technologists from Accenture and Amazon to discuss how the pandemic helped democratise access to digital learning experiences. In a continued celebration of International Women's Day, this discussion explored how virtual learning tools can empower women to address educational, economic, social, and psychological barriers to equity.
The primary purpose of the second day of the conference was to highlight a few relationships that "mainstream" industries have with Sustainable Development Goals (SDGs).
SPOTLIGHT: FINANCE X GENDER EQUALITY
Gender Lens Investing and Unlocking Capital at Scale
The first conversation in this session focused on gender lens investing, exploring the commercial and social opportunities that support the adoption of a previously niche strategy. Andia Chakava, Investment Director at the Graça Machel Trust, Nilah Mitchell, Head of Kenya for 60 Decibels, and Elias Habbar-Baylac on the Gender and Diversity Finance team at CDC addressed how gender lens investing is particularly impactful in emerging markets, with a focus on their work in Africa.
Driving Social and Economic Change in Africa through Gender-Inclusive Financing
Then Esther Dassanou, manager of the Affirmative Finance Action for Women in Africa (AFAWA) initiative of the African Development Bank spoke with Iris Steenkamp, LBS PhD candidate, Oluseun Onasoga of Access Bank, and Rwandan female entrepreneur, Mbabazi Zakhia, on how to reduce the $42 Billion (USD) financing gap for women-led businesses in Africa.
SPOTLIGHT: FASHION X CLIMATE ACTION
Fashion for a Fuller Future
LBS's Retail & Luxury Goods Club collaborated for the next industry-SDG spotlight session. Simone Cipriani, founder of the Ethical Fashion Initiative at the International Trade Centre, gave a keynote address describing the present state of the fashion industry and the strides it has taken to fight climate change. Simone was a crowd favourite, delivering an energetic and convincing lecture, with plenty of audience Q&A.
Fashion Inspiring the Business World on Climate Action
Executives Natasha Franck of Eon, Eno Polo of Global Brands Group, Jordana Guimarães of Fashinnovation, and Giulio Bonazzi of Aquafil discussed the various practices incorporated from across fashion's supply chain to aid climate action, with practical examples from the luxury segment to fast fashion. One LBS MBA reached out to me afterwards saying that this discussion helped her understand the importance of operations, her area of professional expertise, in social impact actualization—a connection that she could not previously identify. This message reenergized our team that we were, in fact, inspiring a reinvention of the mainstream!
SPOTLIGHT: DIGITAL TECH X WELLBEING
Digital Innovation: Speed vs. Responsibility
Dr. David Leslie's keynote presentation on the evolution of AI described how digital technology impacts our wellbeing and the promises and perils it may hold, as we move into an increasingly cyber-physical future. He detailed prospective avenues for mainstream industry leaders and technologists to develop ethical and mindful products, in alignment with their powerful position in the global society of tomorrow.
Connecting the Dots of the Digital Ecosystem
Following on Dr Leslie's introduction, Giri Kesavan, LBS MBA 2021 and president of the Tech & Media Club, interviewed Amanda Lenhart of Data & Society, Justin Wescott of Edelman, and Tera Allas, CBE of McKinsey on how to define digital wellbeing, what public policy's role should be in shaping the mainstream, and which successful case studies could inspire the rest of the industry.
Social Entrepreneurship Inspiring the Mainstream
Last but far from least, we were thrilled to welcome Nobel Laureate Professor Muhammad Yunus to our conference. Dr. Roomi Chowdhury, LBS MBA2022, former LBS employee, and fellow proud Bangladeshi, interviewed Prof. Yunus on how social entrepreneurship could act as a route to reinvent the mainstream, but more importantly, to remind us that "the point and purpose of life is not your job." Richa Bajpai, LBS alumna, co-Founder of Goodera and Campus Fund, and Forbes 30 Under 30 (India & Asia) honouree, then joined the stage to continue the conversation with Roomi on how LBS graduates can make a true and material impact through their creativity and intellect.
These two days reinvigorated my commitment to pushing forward the field of impactful business. I would have been proud just to listen to the dozens of ingenious and passionate experts that spoke, so I had to pinch myself a few times that my team's months of hard work and dedication had made the conference a reality. As we had hoped from the start, "Reinventing the Mainstream" was more than a conference – it was a call to action, and the time is now. #ReinventingTheMainstream #TheTimeIsNow
We are infinitely grateful to our sponsors: Strategy&, theWheeler Institute for Business and Development, and the LBS Institute for Innovation and Entrepreneurship for making this event happen. We are also grateful to the Social Impact Club members and the other LBS clubs and societies who readily collaborated to boost our conference to new heights.
Finally, I would like to extend a special thank you to the 2021 Social Impact Week team: Roomi Chowdhury MBA22, Colleen Garrehy MBA21, Estefania Gutierrez Palmero MBA22, Naveen Kler MBA22, Gehna Mohanani MBA21, Kavya Pillutla MiM21, Kishore Gopal Reddy MBA21, Vevek Shah MiM21, Katie Stolp MBA22, Connie Teng MBA22, Derrick Yap MBA22, and Petra Zilincanova MBA21.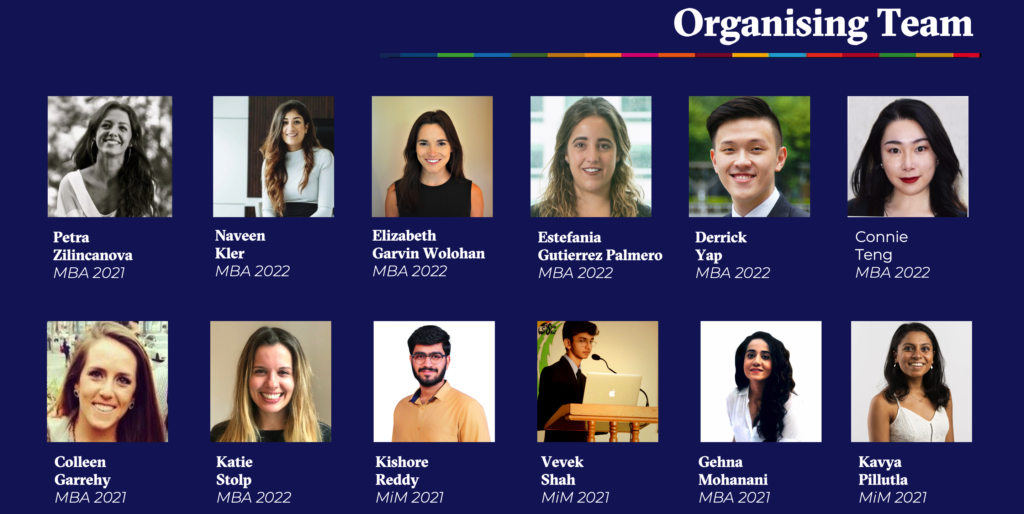 ---
Liz Wolohan (MBA2022) is passionate about expanding London Business School's reputation as a global leader in impact-focussed business education.  In Autumn 2020, Liz led a London Business School Impact Consulting Club engagement with an Australian NGO and in Spring 2021, she led the school's Social Impact Conference. She is a Social Representative for her class and a member of the Women's Touch Rugby Team. Liz is an intern for the Wheeler Institute, contributing to the creation of content that amplifies the role of business in improving lives.