How important is sustainability in supply chains? This year, a group of LBS students came together as a part of the inaugural Social Impact Cohort to explore this topic in more detail. In conjunction with the Wheeler Institute for Business and Development and the Student-led Learning team, our initial post explained the origins of the Social Impact Cohort and how this program relates to the plethora of opportunities available at LBS to develop responsible businesses. As a cohort, we have brought together the insights gleaned from our networks, the LBS student and alumni community, and the guidance of faculty and staff in a series of posts that we hope can drive further conversation.

Our chosen area of focus is sustainable supply chains. We specifically explore supply chains as the area that UNGC (United Nations Global Compact) participants rank as "the biggest challenge to improving [companies'] sustainability performance" and where up to 90% of environmental impacts and 80% of greenhouse gas emissions occur in certain industries.[1] In this post, we introduce what sustainable supply chains are and why they are a critical area of focus.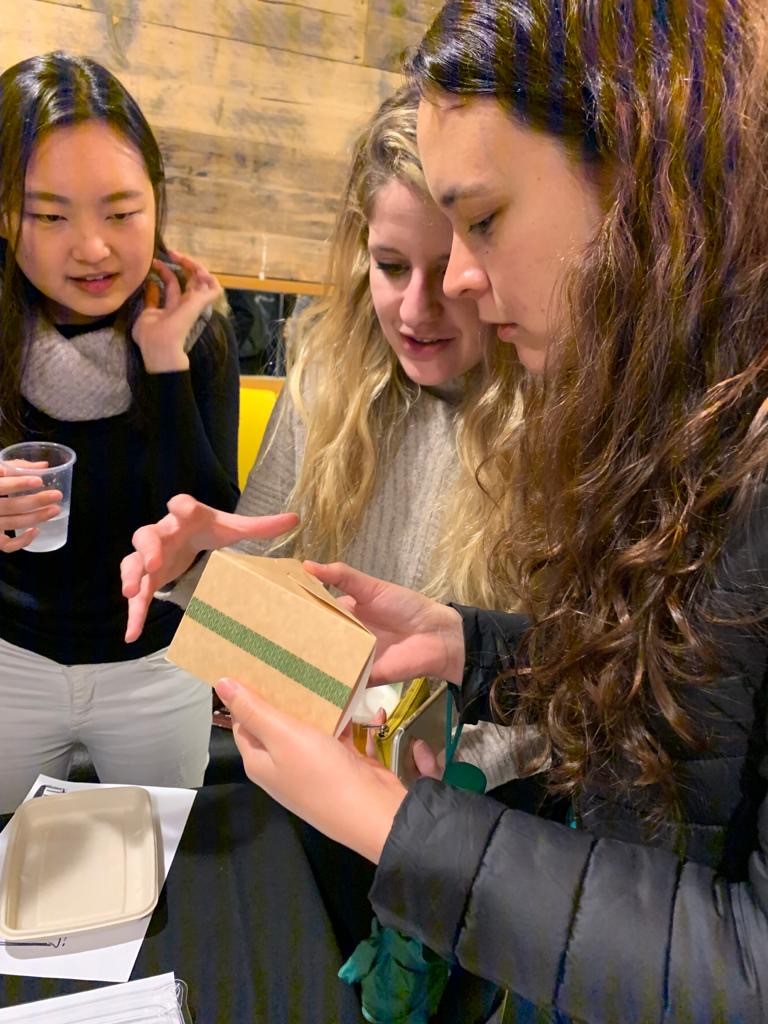 What is a sustainable supply chain?
A sustainable supply chain includes management of the environmental, social, and economic impacts of goods and services while encouraging good governance practices, throughout a product's life cycle.[2] This implies that the impact of a company's suppliers (including its own, first-tier, suppliers; the second-tier, suppliers of its suppliers; and beyond), means of delivery, and usage of its product are all monitored and adverse impacts are mitigated, from product design to the end of life and recycling[3].
Why is it important?
Since the 2000s, there has been a trend towards developing responsible business operations and an acknowledgement that risks and opportunities lie outside of the boundaries of an organisation. This, in addition to a growth of scientific research illustrating the links between climate change, health, and poverty, has reinforced the pressure on individuals and companies to act. Government policy and international regulations such as the 2015 Paris Agreement have started to accelerate the speed of change required to keep supply chains compliant, but consumers are also becoming increasingly environmentally and ethically conscious and thus selective about the products they choose. This requires companies to adopt a more comprehensive approach to sustainability, realising it is an imperative rather than a luxury.[4]
In addition to protecting the environment and communities, incorporating sustainability into supply chains is instrumental to financial performance and can better position companies for growth. This is especially important as future growth is becoming increasingly vulnerable to sustainability factors such as water shortages, climate change, natural disasters, or worker health and safety issues. While causing significant damage to the earth and society, those factors also impact a company's anticipated cash flows, growth projections, valuation, and therefore return to shareholders due to resulting production cost increases or forced reorganisation. According to a McKinsey analysis, roughly half of the current value of the top 50 publicly traded CPG (consumer packaged goods) companies comes from expected cash flow growth. Therefore, to meet sustainability performance standards and continue to provide shareholder returns, these companies need to take action in the supply chain.[5]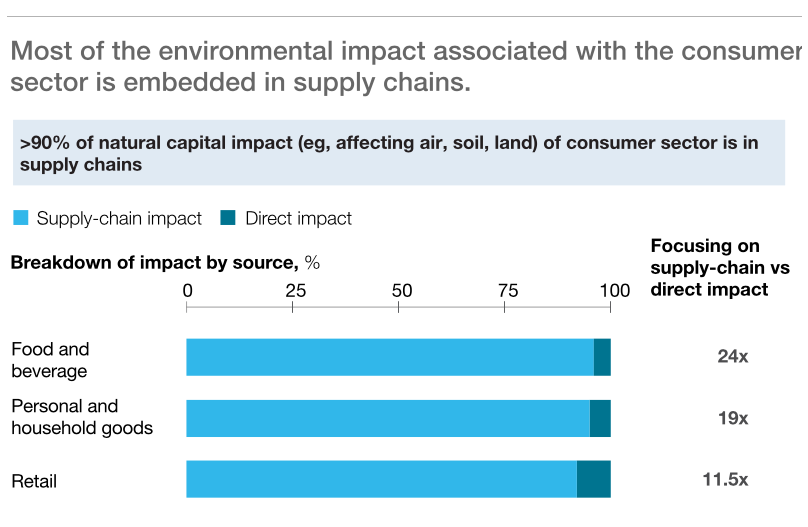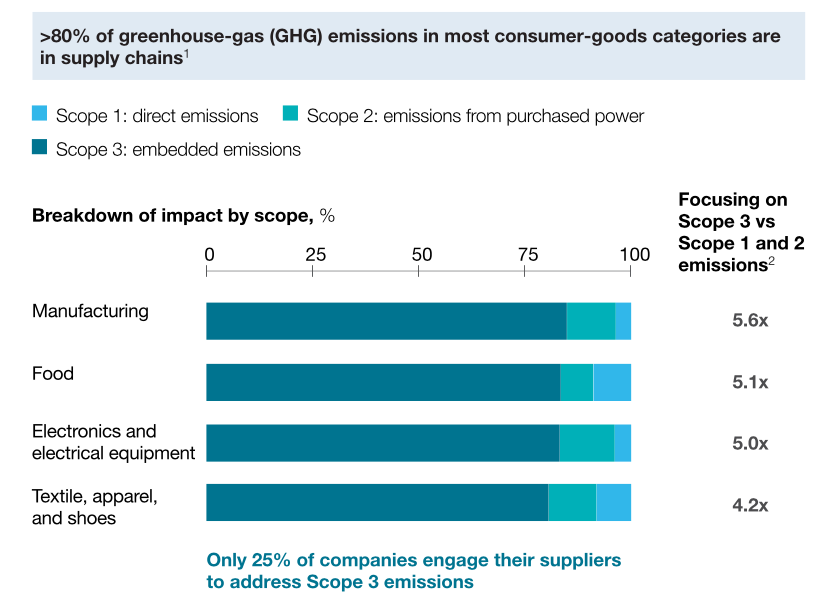 Source: McKinsey. 2016. "Starting at the source: Sustainability in supply chains". Accessed 03/07/2020. Available at: https://www.mckinsey.com/business-functions/sustainability/our-insights/starting-at-the-source-sustainability-in-supply-chains
What's next?
We do realise that there are a number of levers available to leaders to make a purposeful and impactful change. In sharing our findings specifically in the sustainable supply chain space, we hope you will be able to consider the impact you currently have, what tools are available to you, and how you can find your own way to fuel sustainable and inclusive growth.
Watch this space for our next posts on the topic of Sustainable Supply Chains and leave your thoughts and comments below!
Quantifying Impact: How companies can get started on the sustainable supply chain journey and measurement considerations
Latest Trends: Trends in sustainable supply chains including eco-efficiency, technology, and resiliency
Organisational Levers: How supply chain sustainability can be driven from different organisational roles and structures
---
[1] McKinsey. 2016. "Starting at the source: Sustainability in supply chains". Accessed 03/07/2020. Available at: https://www.mckinsey.com/business-functions/sustainability/our-insights/starting-at-the-source-sustainability-in-supply-chains
[2] Bouchery, Y., Corbett, C., Fransoo, J. and Tan, T., 2016. Sustainable Supply Chains. New York: Springer
[3] Villena V., Gioia D., 2020. « A more sustainable supply chain ». Accessed 03/07/2020. Available at: https://hbr.org/2020/03/a-more-sustainable-supply-chain
[4] Bouchery, Y., Corbett, C., Fransoo, J. and Tan, T., 2016.
[5] McKinsey. 2016.
---
The Wheeler Institute is seeking to understand, illuminate and offer solutions to the challenges faced by the developing world, with an aim to identify the role of business in addressing these challenges and a focus on the implications and actions for those in developing countries. In support of our students, we approach this blog section as a reflective platform and a space where individuals can generate debate as long term agents of positive change.
The Sustainable Supply Chain Cohort was founded in the 2019/2020 academic year as the inaugural Social Impact Cohort. This initiative was launched by the Student-led Learning team, which creates experiential learning opportunities through student leadership, in addition to their other initiatives such as the Student Leadership Incubator and Project Aasha.