Northern communities in developed nations have long been at the back of the national conscience. All eight members of the Arctic council (1), a group of arctic circle nations designed to promote cooperation, have significant indigenous communities. The Inuit people of Canada and the Sámi people of northern Europe, just to name two, have some of the most culturally rich and distinct histories on earth. As global warming continues to affect our planet, they have been, and will continue to be, the groups that are disproportionately affected.
As an officer in Canada's military prior to attending London Business School, I had the opportunity to travel to various remote communities in northern Canada. The experience exposed me to the costs of living. It is not uncommon for a bottle of orange juice to cost $25 CAD (£15GBP), with fresh produce costing even more. Food is not the only amenity that is at a premium, for example, when visiting the town of Arctic Bay on Baffin Island, we brought crates of school supplies, as they received so few throughout the year. Although the Canadian government provides subsidies through the Nutrition North Program (NNP)(2), this way of living is not sustainable or efficient in the long-term.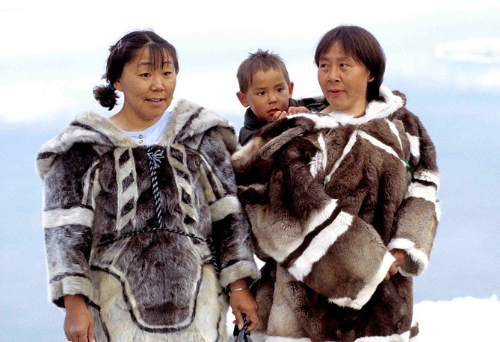 Increased support for these isolated communities is essential for two reasons. Firstly, and most importantly, the eradication of hunger, which is number two on the UN's list of Sustainable Development Goals and has been of increasing concern because of global warming. Secondly is the important role these communities play in the geopolitics of the increasingly contested north.
Achieving the first comes down to supply chains. The two questions to grapple with moving forward are how do we lower the cost, partially through improving the speed, of transportation, and then, in support of that goal, how do we reduce the amount of food that needs to be transported by producing it locally. From a business perspective, these are two aspects that can be realistically tackled through innovative advances in technology and incentive restructuring.
Streamlining the supply chain is not easy due to unpredictable weather and food spoilage. A long-term solution, and one that shows increasing promise, is to begin producing significant fresh produce and goods in the northern communities themselves, reducing their reliance on imported goods. This idea was originally realized by an NGO called Green Iglu(3), which provides solar powered iglu shaped greenhouses, which use soilless growing technology and provides the ideal environment to cultivate vegetables and fruits. During the dark months of the year, the greenhouse is powered by woodchips.
The impact of this type of innovation goes beyond their primary purpose to eradicate hunger. Strong northern communities are essential for continued national security and sovereignty; as sea ice continues to melt, their vitality has never been more relevant. In Canada, the indigenous communities play an active role in the North American security apparatus, specifically when it comes to the observation of the Northwest Passage. Their expertise in Arctic fieldcraft, how to survive and thrive in extreme conditions, is an incredible asset when considering the contested future ambitions in the region.
These problems are not unique to Canada, other northern communities in Arctic Council countries would benefit greatly from the innovations in agricultural technology as well. If business incentives can be properly aligned with government policy, to support innovation and create a vested interest in northern development, the entire country can benefit.
---
Zachary Day (MBA2021) is the Co-President of the Military in Business club at London Business School. Prior to his studies, he was an officer in the Canadian Armed Forces where he served in various operational and strategic roles from 2015-2019. Zachary is an intern for the Wheeler Institute, contributing to the creation of content that amplifies the role of business in improving lives.
The Wheeler Institute is seeking to understand, illuminate and offer solutions to the challenges faced by the developing world, with an aim to identify the role of business in addressing these challenges and a focus on the implications and actions for those in developing countries. In support of our students, we approach this blog section as a reflective platform and a space where individuals can generate debate as long term agents of positive change.
1 Arctic Council nations include Canada, Denmark, Finland, Norway, Sweden, Iceland, the United States and Russia
2 www.cbc.ca/news/business/north-food-prices-nutrition-north-marketplace-1.5074520
3www.greeniglu.com