We are Zoé and Jules from Belgium, Anna from China and Christopher from the Netherlands and through project Aasha we used the business and analytical skillset we developed at LBS to help create a positive impact on society. With the skills acquired from our Masters in Financial Analysis and our Masters in Management, along with our common interest in sustainability and circular economy, we set out to solve a business and societal problem in India.
During Project Aasha, we consulted Ecowrap, an IoT & SaaS based waste management startup operating in India which focuses on the HORECA sector – hotel, restaurant and catering. Ecowrap collects waste, segregates it, and sells it third party recyclers or upcycles the waste itself. Upcycled products are manufactured by underprivileged women who are trained and employed by Ecowrap, creating direct social value through socio-economic inclusivity. The range of products then re-enters the economy through HORECA partners or are sold through ecommerce platforms. In addition, Ecowrap pays the HORECA venues for the waste, which makes it particularly attractive for the venues to participate.
Ecowrap's business model has been very successful since its inception and the company has already collected and segregated 2,900 metric tons of waste. Amidst its recent success, Ecowrap has been recognized as one of the most impactful and promising startups in India and is often invited to share its mission at events on in the media. The team has been recognised by several leading competitions such as United Nations Youth Co:Lab 2020 and Tata Institution of Social Science 2019.
The project
Our work for the client started with clearly defining our scope for the project and subsequently designing a framework to tackle this problem. After an introduction to the company and discussions of where the business is heading in the near future, we decided to narrow down the scope to focus on Ecowrap's upcycling business: this part of the business is still in a relatively early stage and hence holds strong potential to be further developed. We therefore agreed on identifying and assessing growth opportunities within the upcycling division of Ecowrap.
The process
To do this, we broke down our project in four phases: product exploration, preliminary product selection, product analysis and evaluation & implementation. We (i) identified all products which could be produced, (ii) narrowed down the list through a preliminary selection conducted with the client, (iii) analyzed each selected product and (iv) developed a short term (<6 months), midterm (6-12 months) and long term (>12 months) plan for Ecowrap in how to implement the most promising products and further develop its upcycling business. Doing this was obviously challenging as we were working with people across the world in different time zones and were unable to be present at Ecowrap's site to quickly understand all the process and conditions.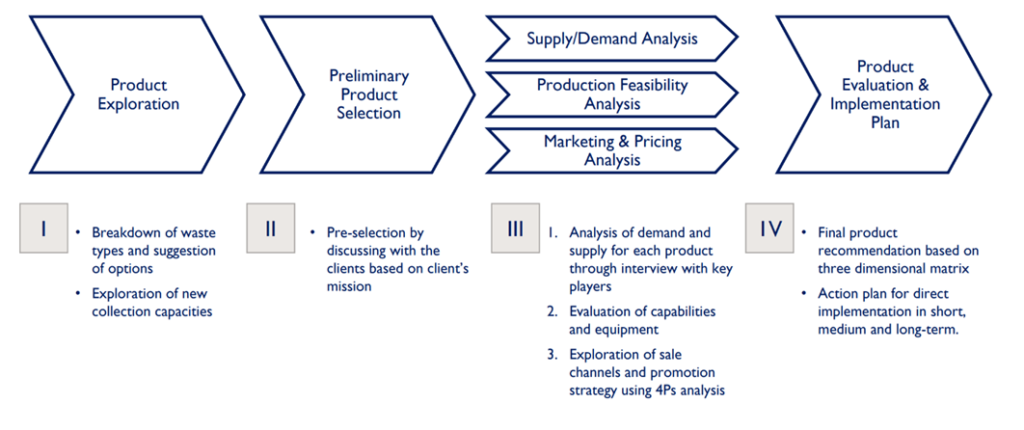 The outcome
Ecowrap was extremely pleased with the results of our consulting project. The founder's feedback included implementing our ideas and showing our work to investors. He states: "It was your persistent work and research that has given us a fruitful insight… your study will help us develop the right set of strategies to empower more women and build an efficient product line of up-cycled products". Indeed, the start-up currently employs 24 underprivileged women to work on their upcycling of waste; by expanding its upcycling business, Ecowrap will be able to hire more underprivileged women and have a higher merchandise output – creating additional impact to local communities and generating more revenue for the business. We are extremely pleased of this positive impact on Ecowrap's operations and social and environmental contributions. Moreover, we experienced this project as a valuable learning experience to develop our consulting skillset while supporting a purpose we hold dear. We are very excited about the development of Ecowrap and hope to keep in touch with them in the future.
Related posts
---
The Wheeler Institute is inspired by the purpose and passion of our students who are focused on applying innovative thinking in the area of business for development. We seek collaborations with student clubs and initiatives that have the potential to evolve how we think about business.
Project Aasha is a social entrepreneurship project led by our Early Career students focussed on the strategy and implementation challenges of addressing poverty alleviation. This initiative is supported by the Student-led Learning team, which creates experiential learning opportunities through student leadership, in addition to their other initiatives such as the Student Leadership Incubator.