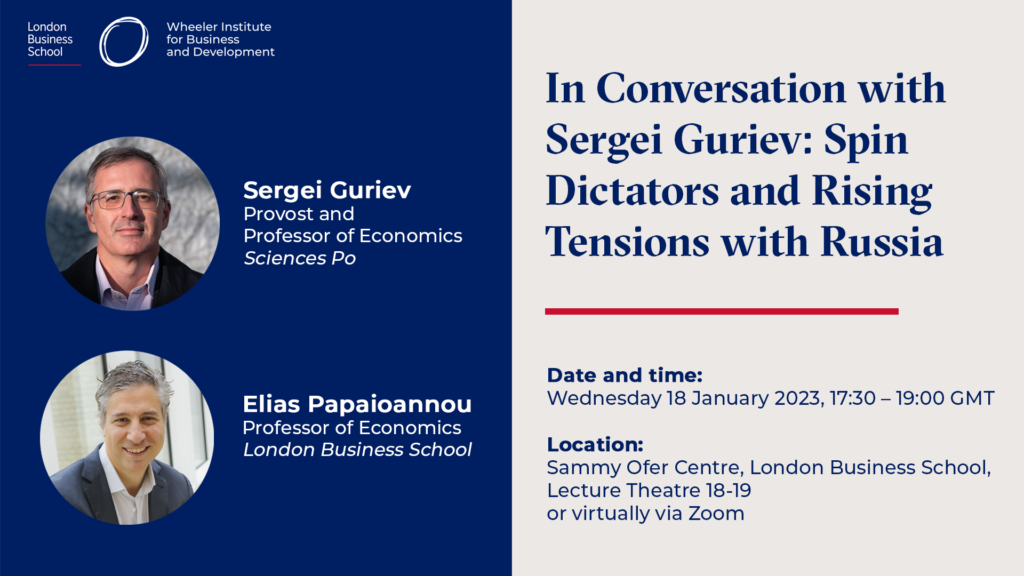 We are delighted to welcome Sergei Guriev, Provost of Sciences Po and Professor of Economics, for a fireside chat with Elias Papaioannou, LBS Professor of Economics and Co-Academic Director of the Wheeler Institute for Business and Development. Together they will discuss the current conflict in Ukraine, the political environment and economy in Russia and wider impact of the conflict in Europe, developing countries and world economy more broadly. Sergei's latest book Spin Dictators: The Changing Face of Tyranny in the 21st Century, focuses on how a new breed of dictators holds power by manipulating information and faking democracy.
Join us in person at Sammy Ofer Centre, London Business School or virtually via Zoom.
---
Date and time: Wednesday 18 January 2023, 17.30-19.00 GMT
In Person: Sammy Ofer Centre, London Business School, Lecture Theatre 18-19, (Registration commences at 11:45 GMT)
Virtual via Zoom
If you would like to have access to both the in-person and virtual event, please register for both below.
---
About the participants
Sergei Guriev is a Professor of Economics at Sciences Po. In 2022, Sergei was appointed Provost of Sciences Po. During 2016-19, he was on leave from Sciences Po serving as the Chief Economist of the European Bank for Reconstruction and Development (EBRD). Dr. Guriev's research interests include political economics, development economics, labor mobility, corporate governance and contract theory. For further details on Sergei's latest book Spin Dictators: The Changing Face of Tyranny in the 21st Century, please visit here
Elias Papaioannou is a Professor of Economics at LBS, where he also serves as an Academic Co-Director of the Wheeler Institute for Business and Development. His research focuses on international finance, political economy, growth, development, and economic history. Elias has held Visiting Professorships at Harvard and MIT's Department of Economics