The Wheeler Institute for Business and Development were honoured to welcome Christos Stylianides, Minister for Climate Crisis and Civil Protection of Greece, for a discussion with Ioannis Ioannou, Associate Professor of Strategy and Entrepreneurship at LBS about the initiatives that are being undertaken for the prevention, preparedness and resilience of natural disaster management whilst offering perspectives on how global objective processes are necessary to better combat the impact of climate change.
---
The event began with the Vice Dean of London Business School, Julian Birkinshaw, welcoming those in attendance. He spoke about the mandate of the Wheeler Institute to sponsor and promote research on first-order development issues around the world and expressed gratitude to Tony and Maureen Wheeler for their continued support in making events like this possible.
Before the Minister was introduced by Professor Ioannis Ioannou, the Vice Dean also took the opportunity to highlight some of the sustainability areas London Business School is focused on; including the research that is done at the Wheeler Institute and by the broader faculty, the teaching and coursework that incorporates sustainability topics, and the initiatives underway to make the School and its campus more sustainable.
Professor Ioannou, a member of Strategy and Entrepreneurship faculty at the School, spent a few minutes introducing Minister Christos Stylianides, highlighting several of his many accomplishments. A dental surgeon by training, the Minister quickly transitioned into the world of politics. By 2006, he was elected to the Cyprus House of Representatives. He spent seven years there before he was elected as a member of the European Parliament in 2014. Among his many other roles and responsibilities, the Minister served as European Commissioner for Humanitarian Aid and Crisis Management until 2019. In this role, he oversaw the EU's humanitarian assistance and disaster response efforts. Most recently, the Minister was appointed Greece's Minister of Climate Crisis and Civil Protection in 2021, the first appointment of this kind globally. Appointed after Greece faced a number of terrible extreme weather events, including the 2021 Wildfires, the Minister is responsible for improving the country's preparedness and response to natural disasters, as well as addressing the impacts of climate change.
Extreme weather phenomena pose an enormous challenge
The Minister began by emphasising just how critical the climate crisis is, saying it was one of if not the most pressing challenges currently facing the world. He added that many of the challenges climate change poses are unfortunately already here; with countries around the world suffering from more frequent and severe extreme weather phenomena, such as wildfires, floods, and droughts. Greece knows well the impact that these weather events can have on a country. According to a report by the Hellenic Association of Insurance Companies (HAIC), during the 25-year period between 1993 and 2018, natural disasters in Greece resulted in insurers receiving more than 24 thousand claims, resulting in approximately EUR 360 million paid out to policyholders. Remarking on how these disasters are becoming increasingly frequent, the Ministers said, "Extreme weather phenomena are the new normal – all across the globe."
Discussing the Three Pillars of Climate Crisis and Civil Protection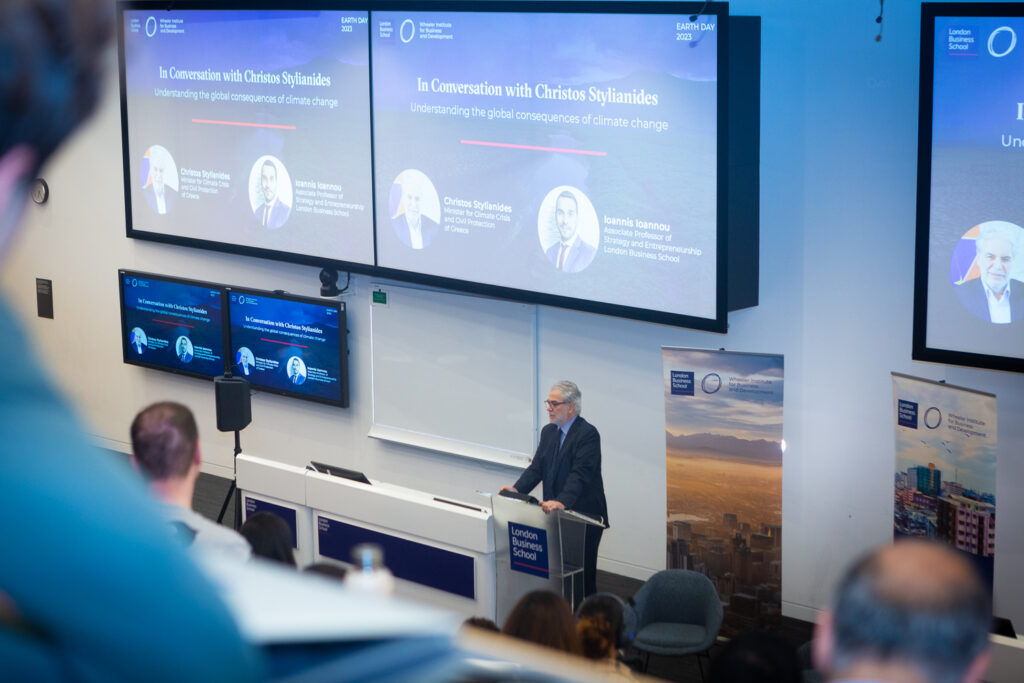 To manage this "new normal" of increased occurrences of extreme weather events, the Ministry of Climate Crisis and Civil Protection was established. The Minister spent time outlining the three pillars that are included in the Ministry's mandate: prevention, preparedness, and response.
Firstly, in terms of prevention, he spoke about the need for increased attention and financial support towards preventive measures and activities. Forest clearing and management, he said, should be part of a strategic multiannual program, incorporating various sectors of the economy, such as agriculture, to help reduce fuel for forest fires.
Secondly, the Minister addressed how preparedness is essential in managing the climate crisis. He underscored the low rate of insurance coverage in Greece, stressing the need for improvement and increased awareness of its importance for the country's protection. Indeed, only one in six (16%) of homes are currently insured. This is drastically lower than in some countries, such as the UK where nearly three-quarters (73%) of homes are covered by some kind of insurance.
Lastly, when speaking about the response pillar, Minister Stylianides again highlighted the importance of cross-country collaboration and working closely with European partners to further strengthen the EU Civil Protection Mechanism. This included establishing rescEU, which operates as a reserve of resources fully funded by the European Union that can be deployed during emergencies across its member states. One example of rescEU in action was when European firefighters from various countries participated in a pilot project last summer. Firefighters were repositioned to Greece during peak wildfire season to exchange expertise and provide additional support if needed.
Need for Pragmatic Public Policy and Collaboration across Government
Moving forward, if we wish to see fewer of these climate disasters, the Minister says countries will need to remain steadfast in commitments to sustainability deals, such as the European Green Deal and the Paris Agreement. The Minister added, however, that committing once is not enough – if countries are to achieve the shared goal of effectively dealing with the climate crisis, flexibility and adaptability are needed. The Minister underscored the current volatility of the macro-environment, driven by factors such as high rates of inflation, the war in Ukraine, and rising energy costs, and how these factors would make it challenging for some jurisdictions to remain committed.
To overcome these challenges and make progress on the sustainability commitments made around the world, countries will need to be adaptable. This will require not only leaders with real vision, said the Minister, but also practical policies that will help drive change. The Minister referred to policies for promoting green investment in new technologies, such as those related to producing, storing, and transporting hydrogen energy.
"We have to realize and to understand that nobody alone can deal with this problem […] We are in the same boat. So, we need to find collective action."
Minister Stylianides emphasised the need to take an approach that prioritises collaboration and synergies at the regional, national, European, and global levels. The recent wildfires around the world demonstrate that no country can effectively respond to natural disasters alone, highlighting the need for collective action and a European umbrella. Despite Brexit, the Minister has worked towards persuading UK Government to stay close to the European civil protection mechanisms, as this collective approach is more cost-efficient and effective than working alone. The only way to address the consequences of the climate crisis is to work together, saying "We have to realize and to understand that nobody alone can deal with this problem […] We are in the same boat. So, we need to find collective action."
Partnering with the Private Sector
Recognizing the public sector may not be able to meet all the new demands resulting from climate change, the Minister took time to stress the crucial role of partnerships between the public and private sectors in addressing the climate crisis. To engage the private sector more effectively, meaningful incentives and partnerships are needed.
Minister Stylianides shared successful examples of these types of partnerships on the Greek islands of Halki and Astypalea; where the Greek government teamed up with companies like Citroën and Volkswagen on experiments to convert the island into using only electric vehicles and relying on its own renewable energy sources. These partnerships between local government and businesses demonstrate how societies and businesses can work together and share responsibilities in addressing climate change.
Role of Technology in Managing the Climate Crisis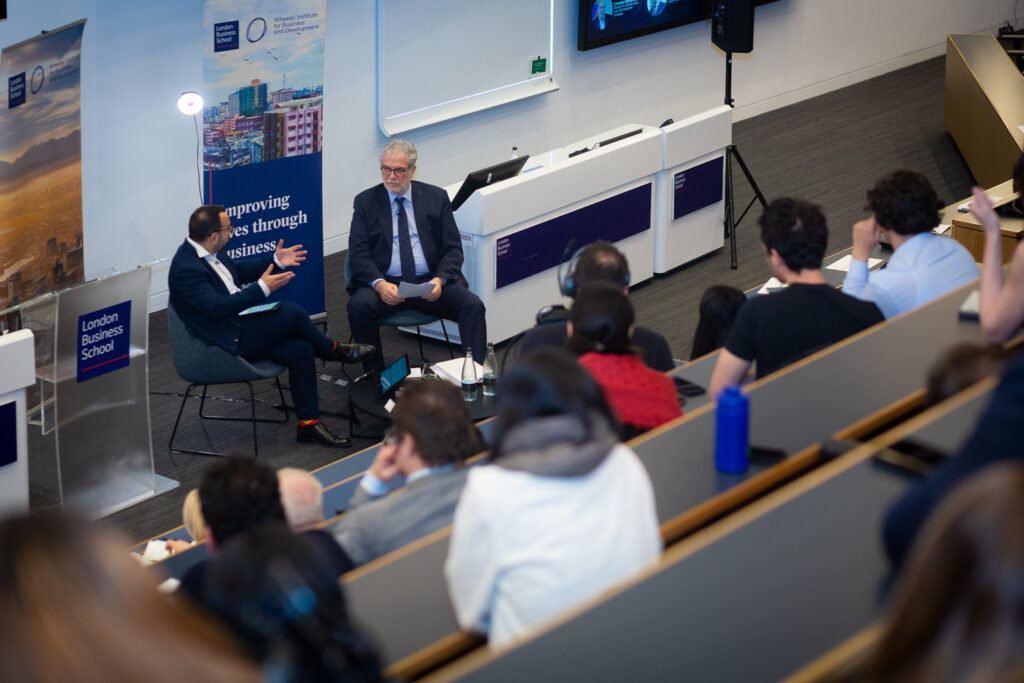 In response to a question from an attendee on the technology advancements that the Minister feels are necessary to fight extreme weather events like wildfires, the Minister spoke about some of the investments Greece has made across its three pillars of prevention, preparedness, and response. He summarised these as a triangle with the three points being early warning systems, technological tools, and scientific insights in connection with operational decision-making.
Firstly, the country has made investments in early warning systems that allow it to detect signs of natural disasters like forest fires early and support collaboration among all stakeholders, such local police, volunteers, and firefighters.
Secondly, when it comes to technological tools, the Minister highlighted the investment Greece has made in its national database for natural disasters, which aims to equip experts (e.g., meteorologists, foresters, etc.) with the data they need to relay crucial information to operational teams, such as firefighters, to enable them to make better, more timely decision before and during climate disasters.
Having early warning signs and combining clear insights from scientists with operational decision-making is critical for effectively managing crisis situations, the Minister stated.
Addressing the Home Insurance Problem in Greece
The Minister received a question from Silvia Pavoni of the Financial Times on whether the issue with the underinsured housing market in Greece stems from a lack of demand (i.e., homeowners searching for policies) or a paucity of supply on the side of the insurers, given the heightened risk factors the country faces in terms of the natural disasters like the ones its seen recently with the wildfires.
The Minister acknowledged the gap that exists in the market and the difficulty this poses for homeowners in Greece. He explained that the high risk of natural disasters in Greece, relative to other markets, makes it difficult for insurers to offer adequate coverage. The solution he believes is to view the risks more broadly, and that perhaps there is a need for a common European approach for insuring properties. However, he stated that he was not prepared to provide definitive guidance on what a specific solution to the issue might look like at this time.
This event was hosted in collaboration with London Business School's Social Impact Club.
---
About the speakers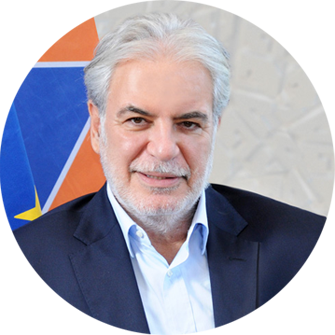 Christos Stylianides, Minister for Climate Crisis and Civil Protection, Greece
Christos Stylianides became the Minister of Climate Crisis and Civil Protection of the Hellenic Republic in September 2021. He previously served as the European Commissioner for Humanitarian Aid and Crisis Management from 2014 until 2019 and is well known for leading the transformation and upgrade of the European civil protection system, by establishing the rescEU mechanism which allows European countries to request and receive fast and effective help in times of emergencies. Prior to this, Mr Stylianides was the EU Ebola Coordinator with the main responsibility to coordinate the European response to the Ebola virus epidemic in West Africa. In May 2021, he was appointed EU Special Envoy for Freedom or Religion or Belief (FoRB). In recognition of his work, Christos Stylianides received important honorary awards from governments and international organisations and institutions.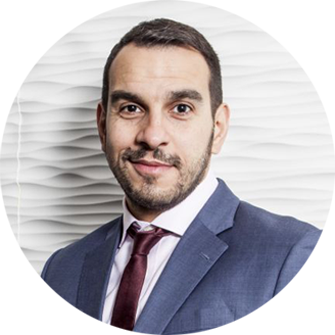 Ioannis Ioannou, Associate Professor of Strategy and Entrepreneurship, London Business School
Professor Ioannis Ioannou is a leading strategy scholar whose research focuses on Sustainability and Corporate Social Responsibility (CSR). More specifically, he seeks to understand whether, how, and the extent to which the modern business organisation contributes towards building a sustainable future. He graduated magna cum laude from Yale University, majoring in Economics and Mathematics and holds a Ph.D. in Business Economics from Harvard University and the Harvard Business School.
About the author
Ian Townsend spent five years in management consulting before coming to London Business School. During his time in consulting, he focused primarily on advising private and government-backed financial institutions across a range of topics, from growth strategy to product innovation. He is passionate about driving sustainable and inclusive growth, particularly as it relates to supporting small and medium-sized businesses.
---
Related Posts