We live in a world where every business or brand associates or at least intends to associate itself with 'sustainability'. A brief perusal of global carbon emissions will indicate that this is certainly not practicable, at least not yet. However, the intention to associate with more green initiatives and operations alludes to a global phenomenon wherein consumers and companies together are getting more conscious about the world they are leaving behind. This was the foundational theme of the 5th annual signature conference hosted by the Social Impact Club at London Business School.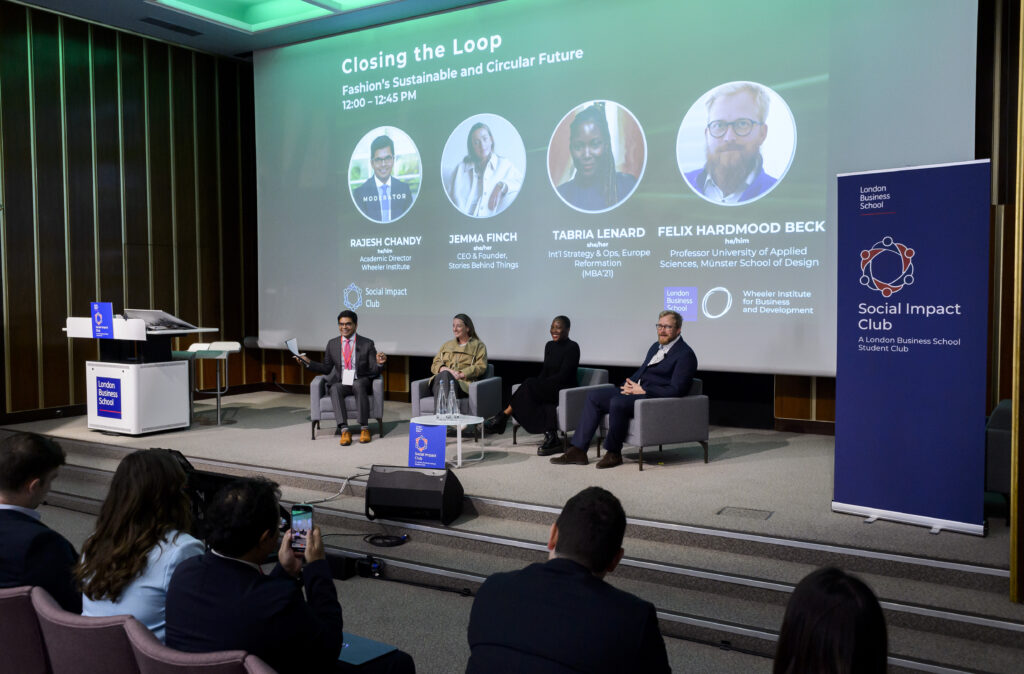 The conference, which had the theme of 'Agents of Change: Shaping a Sustainable Future', featured panels with speakers who are at the forefront of developing thought leadership in various fields including energy, finance and investing, food and agriculture, philanthropy, and fashion.
In particular, Dr Rajesh Chandy, Professor of Marketing at London Business School and Co-Academic Director at Wheeler Institute for Business and Development moderated a panel on the future of sustainable fashion. Speakers included Jemma Finch (CEO and Founder, Stories Behind Things), Tabria Lenard (International Strategy and Operations, Reformation), and Felix Hardmood Beck (Professor of Design, Munster School of Business).
Three Perspectives on Sustainability
Professor Chandy commenced the panel by inviting the speakers to discuss their respective journeys into the world of fashion and what sustainability really means to the organization they are associated with.
Jemma first spoke about how fast fashion's 'quick pace' prompted her into starting a passion project, which has now evolved into her thriving business, Stories Behind Things. Her business provides a platform of tips, tricks, and other content for those keen on how to live a more sustainable life. Adding to this, Professor Chandy disclosed alarming statistics about just how detrimental the pace of fashion is to our environment and surroundings:
10% of global carbon emissions come from fibers used in clothing;
80%-85% of clothes eventually end up in landfills (where they are incinerated); and
35% of microplastics released in marine ecosystems come from fibers used in clothing.
Moreover, 25% of workers employed in garment or fashion manufacturing live below the minimum wage in their respective countries.
Tabria went on to discuss how Reformation has started placing increased importance on 'Resale as a Service', a concept that's gaining momentum in the fashion and retail world. This business model extends the lifetime usage of a product by allowing a consumer to reuse it, or a brand to upcycle it. Commercially, companies are interested in this business model because it leads to positive brand associations and increased customer incentives and loyalty.
Felix added a unique perspective, explaining how the fashion industry should take a step back and focus on product sustainability at the design stage. He shared an insightful story of an organisation he worked with in Manila, Philippines.
During the discussion, Felix shared a photo of young girls from the local community peeling garlic. From this seemingly mundane activity, the girls were able to produce wallets! In light of this, Felix discussed how almost 20% to 30% of the pattern in a newly designed product is wasted and thus there needs to be a shift to empathetic design.
Why aren't we all sustainable yet?
The problem is known, as is the desired outcome. However, the path is complex and challenging and involves multiple stakeholders in the supply chain to cooperate, collaborate and innovate.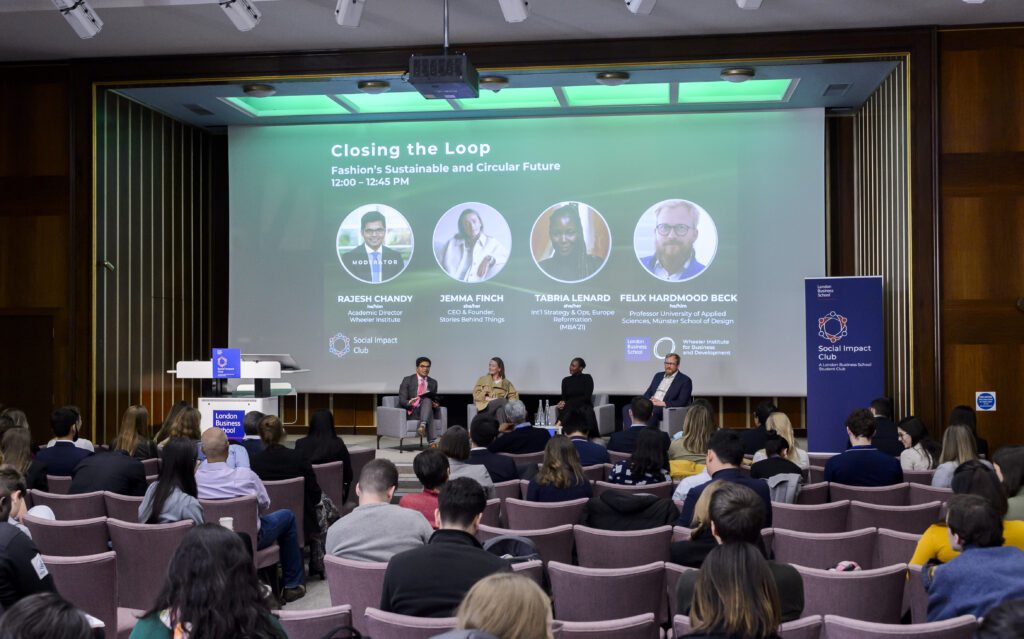 Jemma started by highlighting how the term 'sustainable' is not defined or regulated, implying that it can mean different things in different industries. This confuses the consumer who is unable to cut through the clutter and assess which brand or organisation is towards greener practices. The inevitable lack of trust embedded in the communication challenge often converts an enthusiastic environmentally-conscious consumer into an ignorant one – which is a 'one step forward but two steps back' problem.
Tabria highlighted the 4P focus: People, Planet, Product and Progress. Her specific areas of focus include 'People' and 'Progress'. Within this, her key trade-off challenge is how to create a profitable product whilst continuing to innovate in the industry. While it is important to pay workers a fair wage, a major problem in the industry, it is also important to be at the leading front of industry disruption and trendsetting. She stated how innovation progress could potentially manifest in different ways such as repair, recycle and rentals.
Felix shared another anecdote of having come across a brand that labelled itself as 'sustainable' however when the label clearly indicated the use of inorganic fabrics. He echoed his co-speakers in that building something truly sustainable is multi-faceted and that it requires production, price, and know-how challenges to be overcome. The next stage of the challenge includes communicating with the consumer and then convincing them to pay the product's price point over fast fashion, which will always be cheaper.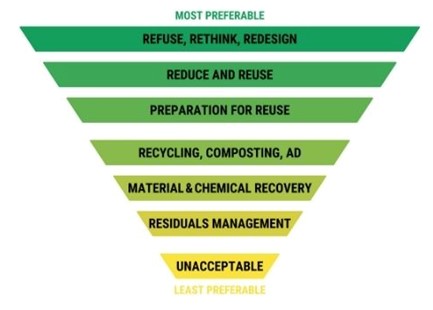 The road ahead
The fashion industry is not beyond repair. The speakers all remain excited about the future of fashion and have a deep conviction that the challenges to the path of true sustainability will be overcome. Jemma is excited about the rising number of start-ups that are implementing transparency into the core of their operations. Tabria remains optimistic that the 'adrenaline rush' a consumer faces from buying something new will soon be replaced by the innovation stemming from circular fashion. Felix ended the panel discussion by compelling his fellow speakers as well as the audience to think about their relationship with 'waste' in line with the pyramid structure shared in the image below. As a society of consumers and businesses concerned about a sustainable future, the answer lies in moving from measures considered least preferable to those considered most preferable.
---
About the Social Impact Club
The Social Impact Club supports the development of students in becoming socially responsible business leaders by providing educational, experiential, professional, and networking opportunities to the London Business School community. The club focuses on four main areas: impact investing, sustainability, social entrepreneurship, and foundations / non-profit initiatives.
About the Author
Devanshi Shah (MBA2024) worked for five years in economic and financial consulting in India and the UAE before coming to LBS. She has advised clients across industries including construction, oil and gas, retail, and real estate, on how to value monetary and other damages arising from legal disputes. She is passionate about inclusivity in finance and education, particularly that marginalized populations in developing countries should be a focus in policy decisions.