Ms. Phyllis Costanza, Head of Social Impact and CEO of the UBS Optimus Foundation was recently hosted by the student-led Social Impact Club. In conversation with Akhil Pawar and Jane Lu, Ms. Costanza discussed the foundation's work and shared her experience in pioneering innovative financing mechanisms and impactful interventions as well as her vision for a future in which social outcomes become integral to the world of finance.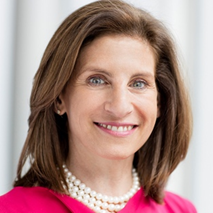 Helping clients to identify, fund, monitor and manage impactful programs
The UBS Optimus Foundation is designed to support UBS clients with their philanthropic needs to bring about transformative, scalable, and sustainable change. UBS embarked on the social finance journey about 8 years ago, with the first development impact bond where UBS Optimus supported Educate Girls to scale its intervention and improve education outcomes for 7,300 children. Since then, the foundation has been a pioneer in innovating financing solutions that bridge the gap between philanthropy and sustainable investing.
This approach has allowed UBS Optimus to be an early supporter of high impact interventions in frontier markets. Phyllis cited the example of Last Mile Health – a revolutionary health organization that brings medical care to remote parts of Liberia. The Foundation supported Last Mile by connecting them to clients and enabled them to reduce maternal and infant death rates by up to 56%. Last Mile Health has subsequently received funding and support from the likes of World Bank and Mackenzie Scott.
Delivering lasting outcomes not outputs
Many people separate their philanthropy from their investing, using their market returns to 'do good'. Even when considering 'impact investing' as an asset class, the question of what impact truly means is often ignored by investors. On the other hand, consumers today have greater expectations of the social outcomes pursued by companies, governments, and investors. The primary goal of social finance is to support and drive this real impact expected by consumers by focusing on outcomes and not just the outputs.
A great example of how the Foundation does this is the case of Impact Water – a social business which provides water purification systems in schools – where UBS Optimus funded a financing structure (called a "Social Success Note") which had a variable interest rate linked to attendance rates in Ugandan schools. The rationale for focusing on attendance as opposed to purification systems installed? When school children drink clean water, they fall sick less frequently and thus have higher attendance rates.
Bringing clients together to solve really big, challenging problems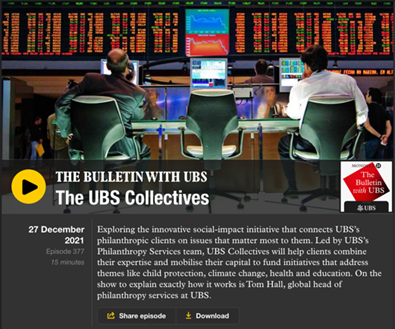 The other, new initiative through which the Foundation helps its clients is via bringing them together to pool their wealth and expertise in addressing challenges such as climate change, child protection, health, and education.
Labelled 'Philanthropy Collectives' this initiative has already brought together over 60 clients to fund mangrove restoration projects in Vietnam, help children get out of orphanages and into family-based care in Asia. Through these collectives, UBS aims to educate their clients, help them experience first-hand the challenges facing the global south and shape their approach to philanthropy.
Challenges in scaling such outcomes focused approaches
Because outcomes are harder to measure, such innovative approaches face a variety of challenges in reaching their true potential. From ethical questions surrounding quantification of human life to ensuring non-profits receive feedback if their interventions are working – and adapt quickly enough if they are not – outcomes-based financing still has some ways to go.
Thankfully there are emerging technologies – such as blockchain based smart contracts among others – that are being adapted to solve these challenges. The Foundation also partners extensively with both corporations and governments to facilitate a more conducive ecosystem for such innovative financing mechanisms to flourish.
We should be able to trade social credits
By tackling the challenges highlighted above, Phyllis also discussed her vision of a capital market where investors can trade 'social credits' – just in the way that carbon credits are traded today. In such a world, non-profits and other social intervention providers would be able to price the cost of delivery precisely; and competitive dynamics would ensure that only the truly impactful interventions consolidate and scale. Such a market can enable efficient allocation of resources towards high-impact projects and help bridge the $2.5+ trillion gap towards the UN's Sustainable Development Goals.
About Phyllis Costanza
Phyllis is currently the Head of Social Impact and CEO of the UBS Optimus Foundation and has been instrumental in reshaping the Foundation's strategy and introducing innovative financing vehicles like the first Development Impact Bond. Prior to UBS, she was a senior executive and Board Member of the Children's Investment Fund Foundation. Phyllis has also worked as a management consultant and for New York State Governor, advising on policy and politics in Manhattan. She holds a Master's in Public Policy from Harvard Kennedy School of Government. Phyllis recently announced that she will be stepping away from her role at UBS to launch her own initiative focusing on a market for social outcome credits.
---
Akhil Pawar (MBA2022) is the co-lead of the Impact Investing pillar of the Social Impact Club at London Business School. Prior to the MBA he worked in the social investing space with Yunus Social Business and managed a project for the World Economic Forum. Before that he has worked as an investment banking analyst at Goldman Sachs and as a credit analyst with Deutsche Bank. Akhil completed his undergrad in Economics and Engineering from BITS Pilani in India.
Jane Lu (MiM2022) is an ExCo member of the Impact Investing pillar of the Social Impact Club. Prior to LBS, she studied finance at National Taiwan University for her bachelor degree. She also worked on projects and internships across sectors in APAC, including fundraising for an NGO based in Nepal, industry research for PE firms in Greater China, and Southeast Asia market entry strategy for a tech unicorn
The Social Impact Club at London Business School is a student-led club broadening the awareness and variety of careers in social impact, as well as working to develop LBS's social impact capabilities. Check out their activities here: https://clubs.london.edu/socimp/social-impact-club/
---
More Student-led initiatives..