I-Venture @ISB with the support of the Wheeler Institute for Business and Development at London Business School hosted last week's London Conference 2022: Building the India-UK Startup Corridor, aimed at fostering collaboration between two leading startup ecosystems – India and the UK. The conference brought together founding teams and key members of the ecosystems in India and the UK on a single platform to facilitate cross-talk, collaboration, and business expansion opportunities in both countries, thereby contributing to strengthening India-UK relations. The event featured startups pitching to investors, a roundtable where stakeholders discussed how to make the ecosystem thrive, a keynote speech from Lord Bilimoria and a networking session. Professor Bhagwan Chowdhry, Professor of Finance at ISB and Faculty Director at I-Venture @ ISB, chaired the sessions.
Pitch session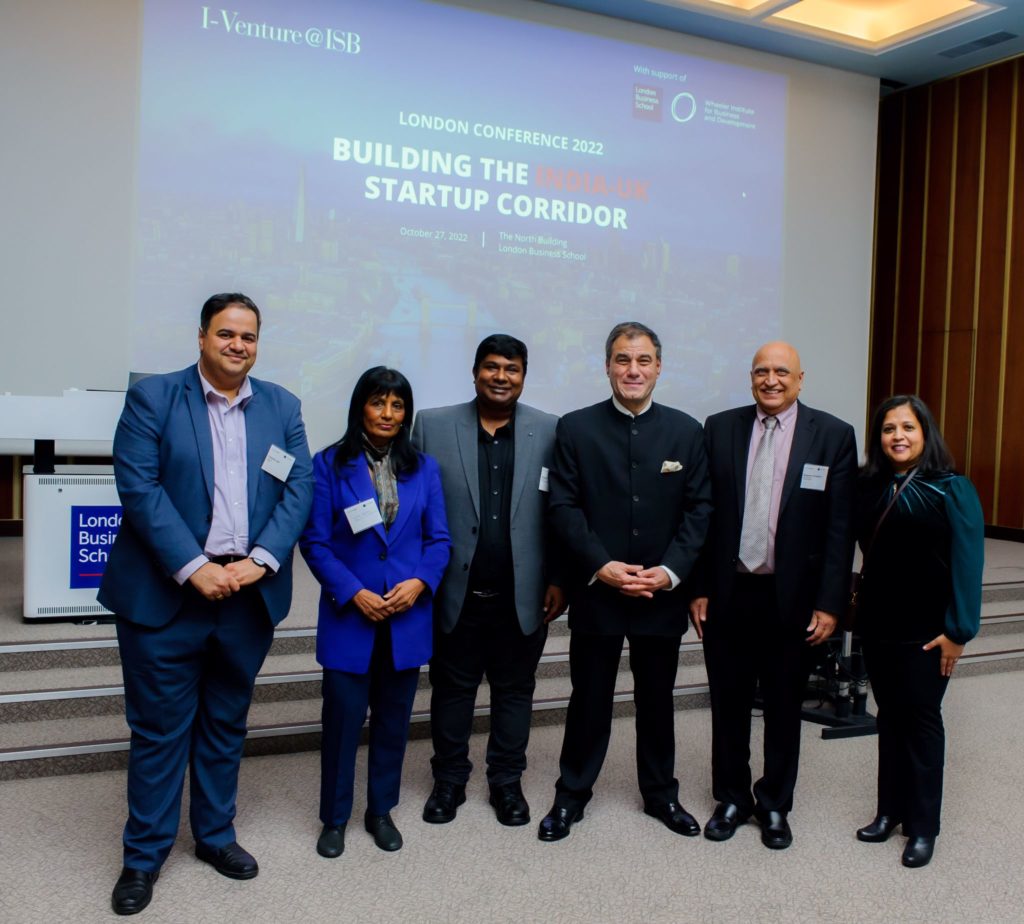 The opening pitch session gave an insight into the wide range of startup ventures under development by young entrepreneurs associated with LBS and ISB. Unify is a platform offering overseas students applying for postgraduate business degrees in the UK and EU a single portal for multiple applications and personalised, algorithm-driven recommendations. It has already successfully placed several students in courses starting in 2023. Focusing on an earlier stage of education, Learn from Heroes aims to provide one million online tutoring sessions a month by 2030, connecting well qualified Indian tutors with students in Years 8 to 11 in the US and UK and utilising technology to personalise user content and revision questions. For even younger children, the Kriyo preschool app offers support for preschool and childcare professionals and for parents worldwide.
AssetVault provides services that help people to catalogue their assets, create digital wills and store this information, so that inheritances can be processed more quickly and with fewer disputes. This is a particularly valuable service in a country where will writing is a manual and bureaucratic process, women's inheritances are still determined in line with a law from 1956 and there is limited provision for LGBTQ+ or co-habiting partners. In the field of cyber security, meanwhile, DeepCytes helps business respond to the increasing prevalence of cyber bullying, ransomware attacks and breaches through investigations, training and forensics. It has an experienced team of professionals who can be deployed remotely to assist clients.
XMachines is developing AI-based, autonomous mobile robots for use in four areas of agricultural operations – planting, weed control, spraying and planting. The company sells its robots to micro-entrepreneurs, who then lease them to smallholder farmers, and it plans to offer subscription services leveraging the data gathered across its robot fleet. In the field of sustainable farming, Food of Gods sells single-estate, heirloom spices from multi-generational farms. Originally launched in Ghana, it plans to enter the UK market in the next twelve months, targeting online sales and high-end retail. Like Learn from Heroes, Food of Gods is part of LBS's Incubator programme in 2022.
Finally, NeuroPixel.AI, backed by a number of investors including ISB's Dlabs, plans to offer AI-powered fashion cataloguing and synthetic model personalisation, significantly reducing the costs for fashion retailers of shooting and re-shooting catalogue images. Specify your model's characteristics and pose, take a photo of the garment, and then generate a catalogue-quality image.
All the founders, whether seeking funding or advice, benefitted from a range of engaged questions from conference participants, who included academics, entrepreneurs, and officials. Common themes in the Q&A were around proving product viability, identifying target markets and considering the benefits of entering new markets globally. It was notable how many of these startups were targeting or already operating in multiple geographies. How to support moving between the UK and India was then picked up in the roundtable discussion that followed.
Roundtable
Professor Chowdhry began the session by expressing his belief that opening borders to a flow of talent and ideas represents the biggest single opportunity to increase global GDP. He then challenged participants to provide detailed, actionable suggestions to make it easier for startups to succeed between the UK and India. The discussion, which was wide-ranging, covered access to investment and funding, the unique role of business schools in offering mentorship and incubation, the difficulties of incorporation and establishment, and the benefits and limitations of trade conferences and delegations.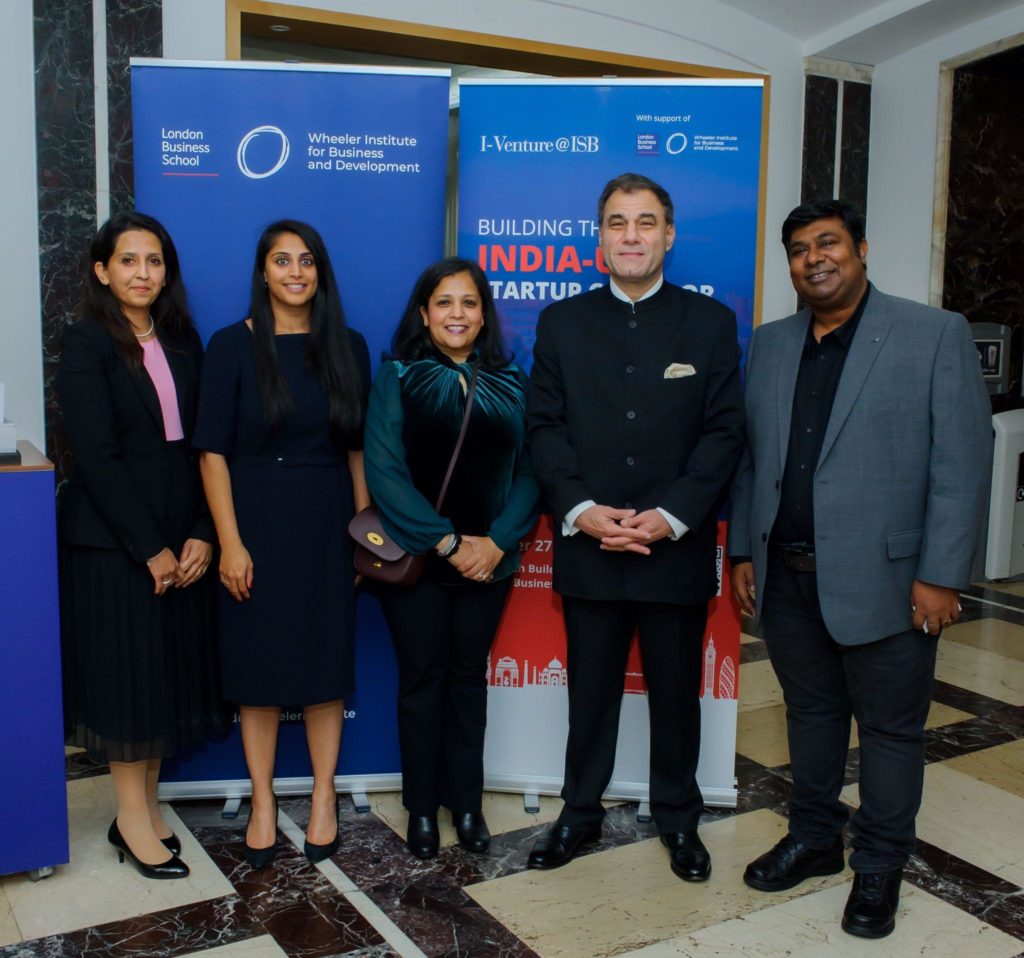 Business schools can play a range of roles in the funding of startup ventures. It was generally agreed that it is not optimal for schools to make the investment decisions, as this judging should be left to professional investors. Where business schools can help is in initially selecting ventures for incubation, then working with founders to prepare them to go in front of professional investors and convening their networks to facilitate pitches. There is research in progress that seeks to identify some of the characteristics of successful startups, but it was agreed that this will not replace the need for a supportive ecosystem and decision-making by experienced investors. There were interesting ideas on potential co-investment funds or accelerator programmes, where VC firms can access startups on condition of investing a certain multiple of the universities' initial seed funding, a model that has already been used successfully by several Indian states.
How exactly business schools could best help founding teams was another topic of discussion. "Ask not what you can do for ISB and LBS," said Chowdhry, "but what we can do for you." Entrepreneurs need specific targets. One participant asked "Give us a target in front, for example that we want X $100m businesses, representing X% of GDP by 2030." From this starting point, participants agreed on the need for scalable and democratised KPIs, taking into account the number and value of startups to be incubated, but also their industry and location – it was important to support Tier 2 and 3 cities and non-tech sectors, "zebras as well as unicorns." Agreeing that access to business school networks is one of the most valuable benefits of accelerator programmes, Chowdhry outlined the plan for ISB's mentorship scheme, which is currently under development and will see mentors formally commit to two half-hour sessions with each founding team, with the option for further advice if each party is willing. Some of the entrepreneurs in the room reiterated the need for funding alongside advice – "lots of mentoring is just noise, unless you put your money where your mouth is."
Even when a venture has been funded and mentored and has grown to a point where international expansion becomes an option, challenges remain. This applies in both directions. Setting up a UK business in India remained hard, despite recent simplifications, and it is hard to navigate Government machinery. "That's why it's so profitable," joked Chowdhry. Representatives of the UK Government directed participants to their Trade & Investments team, which has 150 people on the ground in India with strong networks that can be made available to interested businesses. Conversely, for Indian companies coming to the UK, two challenges stood out: knowing what to do (though the gov.uk website was agreed to be a useful resource for practical questions) and finding out who to meet. Considering this question, participants discussed the value of delegations, such as to the Nasscom Annual Technology Conference or London Tech Week. It was agreed that such conferences were usefully treated as ways of generating general, initial inbound interest that could then be connected with particular local ecosystems. One example was provided by the West Midlands Growth Company and Infinity Labs, where the rational case for investment in the region was supplemented with a visit to the Commonwealth Games in Birmingham and in-person visits to the area and its local amenities, before an investment decision was made.
Keynote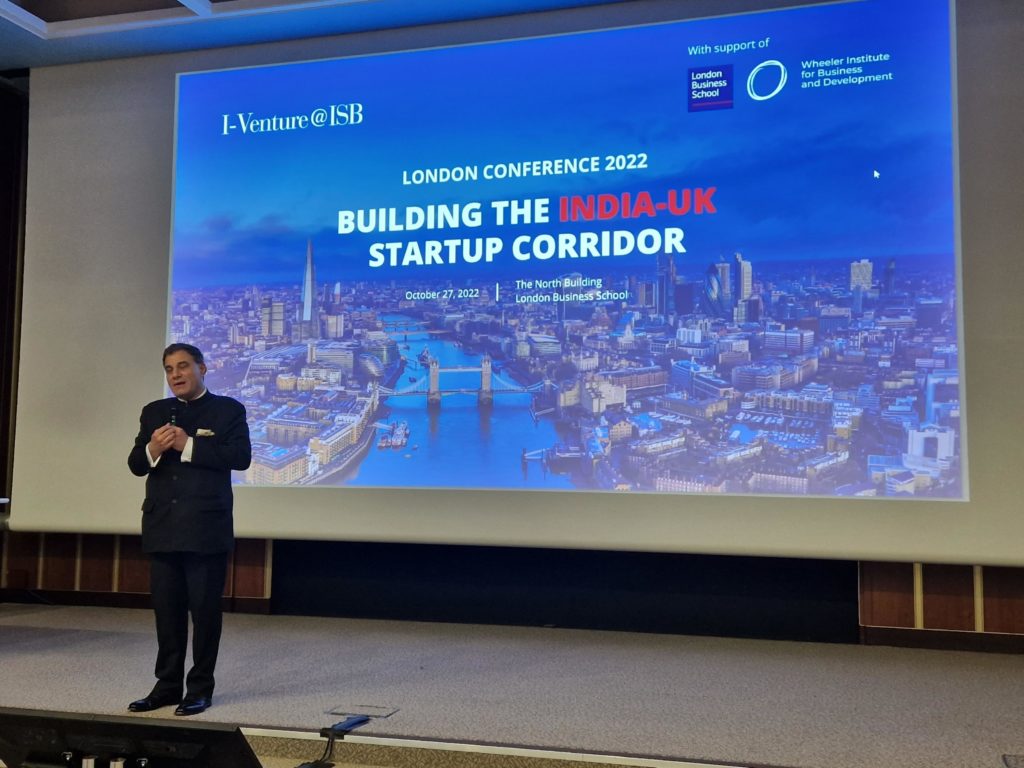 The conference closed with some remarks by Lord Bilimoria, followed by a Q&A. Bilimoria began by reflecting on recent events in the UK. In 2012, when receiving the award for Indian of the Year, he had predicted that within his lifetime the country would have a South Asian Prime Minister. This had come to pass with the selection of Rishi Sunak by the Conservative Party earlier in the week and would be a source of pride to the 1.5 million Indians in the UK, the 30 million people in the worldwide Indian diaspora and the 1.4 billion inhabitants of India. This was convincing evidence that the glass ceiling that had existed until relatively recently had been shattered. He hoped that we would now see the virtuous cycle of inspiration leading to aspiration, aspiration to achievement, and achievement to inspiration in British-Indian relationships.
After telling the story of how Cobra Beer was established – from humble beginnings importing polo sticks to a flat on the Fulham Palace Road, transporting produce in a Citroen 2CV named Albert, to wisely choosing to focus on beer instead of sea food, and then taking advantage of the only Czech-trained master brewer in India – Bilimoria identified several important trends in UK business over the last three to four decades that needed to continue. First, both economies had unleashed entrepreneurship – India after its liberalisation in 1991 and the UK during the Thatcher era – and now featured in the top-five unicorn factories worldwide. This needed to be nurtured by Governments. Second, there had been a great opening up of trade between the countries, but there was more to be done. Bilateral trade is worth around £24bn annually, compared to over £100bn with China, and so a wide-ranging free trade agreement should be a priority for the new Government, addressing not just tariffs, but also market access and the movement of skilled workers. Finally, informed by his perspective as Chair of the All-Party Parliamentary Group for International Student and as chancellor of the University of Birmingham, he advocated for more ambitious targets for international students, up to 1 million by 2030. He cited the enormous benefits that come from cross-border research activities, with much greater field-weighted impact in such collaborations.
Bilimoria concluded that the potential of the UK-India relationship was huge, that it needed to be unleashed, and that the time was now. He believed that entrepreneurship could be the bedrock for this growth. To achieve this, the third element of Frances Frei's trust triangle – authenticity, logic and particularly empathy – would need to be fostered through closer collaborations and greater understanding.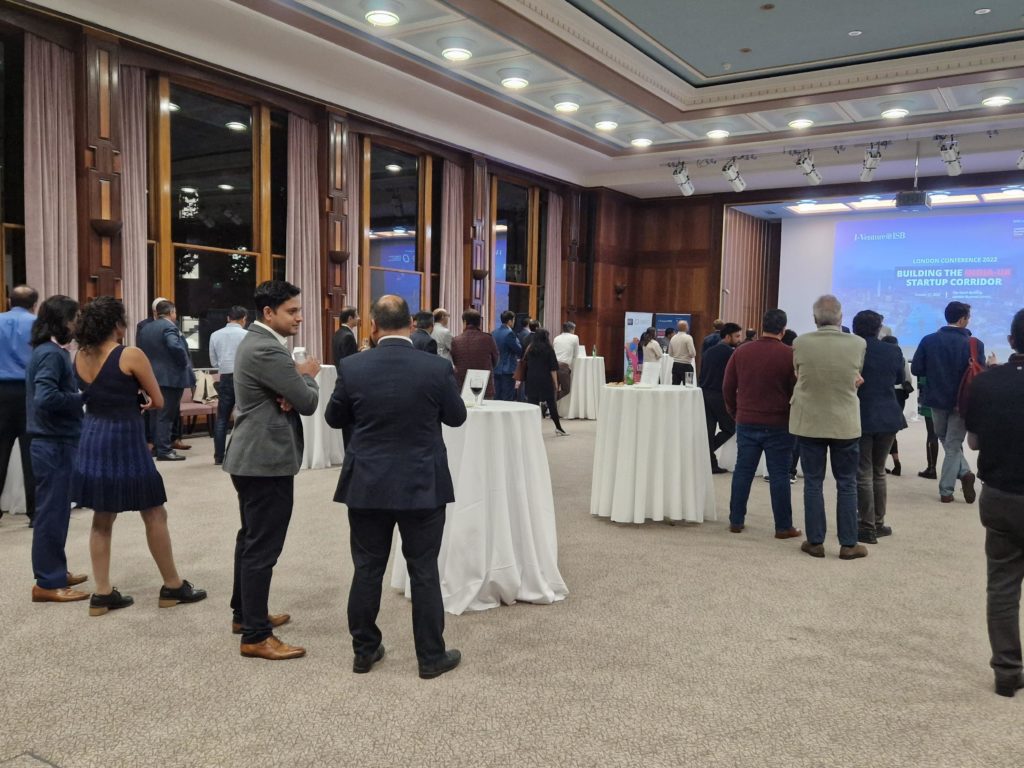 In an engaged Q&A, Bilimoria reflected on the role of purpose in business – something that has been at the core of Cobra's activities for many years through its charitable foundation and its subsidiary Belu Water – reiterated his support for policies that encouraged the movement of people, and reflected on the importance of mentorship (both as mentor and mentee) in his own career. A final topic of discussion was around healthcare and technology. In this area, in the fiftieth anniversary of the arrival of Ugandan Asians in the UK, he highlighted the dependence of the UK healthcare system on Asian doctors and nurses and advocated for the activation of the Migration Advisory Council in setting long-term targets for key staff in these fields. He also reflected on the spectacular success of the Serum Institute of India in the COVID pandemic, and the crucial role it played in the production of the vaccine developed by the University of Oxford and Astra-Zeneca. This was a perfect example of the potential that could be realised by effective collaboration between Government, business and academia in the UK and India and a fitting end to the conference's discussions.
Networking
Over the course of a valuable networking session at the end of the conference, participants were introduced to Let's Venture, India's leading early-stage platform for startup investing. In 2021, there were 107 unicorns in India, and Let's Venture offers a technology-first platform to access the ecosystem. The platform has thousands of investors and startups on the platform, with over 900 investments made and an average IRR to date of 31%.
---
I-Venture @ ISB fosters entrepreneurship and nurtures start-ups. It administers business incubators that provide 'Start-to-Scale' support for entrepreneurship and facilitates the conversion of start-ups into profitable entrepreneurial ventures. They have very specific programmes which cater to entrepreneurs and ventures of all stages. I-Venture @ ISB constantly works towards creating a strong ecosystem of mentors, VC's and Academicians to ensure startup's reach to market and their growth.
David Jones (MBA 2022) is a Classics graduate and has worked as a teacher in Malawi, an accountant at Deloitte and in the finance function at the Science Museum in London. He completed an internship with the Wheeler Institute's Development Impact Platform in Zambia over summer 2021 and is now continuing as an intern for the Wheeler Institute, contributing to the creation of content that amplifies the role of business in improving lives.