The Wheeler Institute is delighted to welcome three new pre-doctoral researchers. They reveal what brought them to London Business School and what they hope to achieve in their research.
---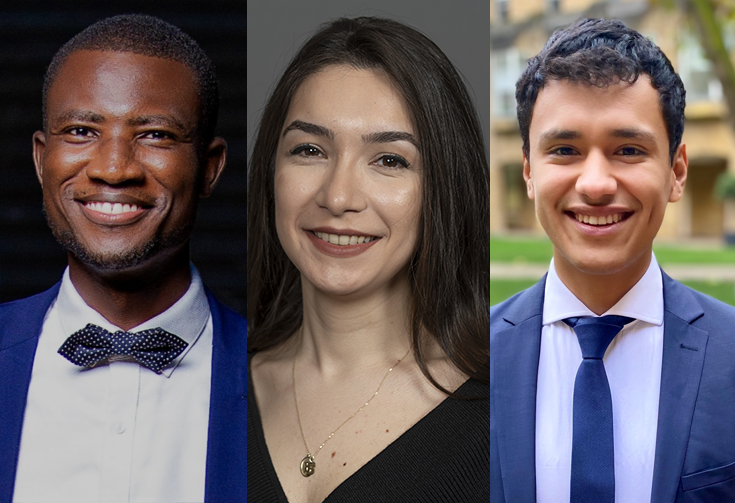 Every applicant to the Wheeler Institute's pre-doctoral research assistant programme has an intriguing back story, but arguably few can rival Daniel Sey's in terms of sheer improbability. One of 27,000 people who registered for Professor Elias Papaioannou's free online course African History through the lens of Economics, Daniel was struck by what he calls the "broad spectrum and interdisciplinary" nature of the content.
At the time, he was a research officer at the Institute of Statistical, Social and Economic Research of the University of Ghana, working on a project to explore the links between climate change, sustainable livelihoods, poverty and inequality. The project – Transforming Social Inequality through Inclusive Climate Change Action Project (TSITICA) – was carried out by a team of global experts from the UK, Ghana, Kenya and South Africa with the aim of generating insights that could inform policy in the three African countries.
Daniel, who also worked as a graduate teaching and research assistant at the Department of Economics at the university, was naturally drawn to the theme of Professor Papaioannou's course due to his own research interests, but he was not familiar with London Business School and the Wheeler Institute – or at least not in the context of a course on African history.
Intrigued, he googled LBS and the Wheeler Institute and chanced across the invitation to apply for a pre-doctoral research assitant position on social media, but still paid "little or no attention to the call" – until he received an email from then Executive Director, Amelia Whitelaw, inviting him to apply for the position following his participation in the course.
At that moment, he knew he had to do everything in his power to get onto the programme and set about applying urgently; after "a series of tasks and interviews and anxious moments", he was excited and delighted to be accepted.
If the course on the legacy of colonialism proved enlightening, his acceptance onto the pre-doc programme was nothing short of life-changing: "Following my participation in the open-access course, I have believed in opportunities and I believe there are countless of them," he reveals. "The majority of such life-changing opportunities lie in the little things, the little tasks, the [seemingly] not-too-relevant courses, and the least-considered opportunity among the lot. The short course on African colonisation and contemporary development has given me much to believe in and to dream about."
Perfect opportunity
Daniel is equally convinced that, because the work of the Wheeler Institute aligns closely with his "passion for applying econometric tools and techniques to understand social issues in developing countries", his new role is the perfect opportunity to fulfil his broad research interests and career ambitions.
He says, "In common with many developing countries, the recent significant growth in micro, small, and medium-scale enterprises in Ghana has implications for employment and overall growth. Gaining an enhanced understanding of the constraints and enablers of business growth will be key to harnessing the potential that business has to help alleviate poverty and inequality in developing-country contexts like Africa."
Daniel was drawn to LBS for more than purely academic reasons: "Hopefully, the various clubs on campus, like the Energy and Environment Club, the Black in Business Club and the Africa Club, among others, will increase my prospects of engaging in dialogue with people of varied cultural and intellectual backgrounds and heighten my appreciation of global diversity. More importantly, I'm convinced that the opportunity to interact with faculty members and other doctoral candidates on the programme will help me develop new research ideas, even before I commence my doctoral studies."
The opportunity to research ways to impact poverty and inequality is a motivation shared by Bihter Erbaş, whose research interests include economic growth and development, innovation, labour economics and political economy.
Prior to joining the Wheeler Institute, Bihter completed bachelor's degrees in economics both at Galatasaray University in Turkey and at Université Paris 1 Panthéon-Sorbonne in France before doing a master's in social sciences with a concentration in economics at the University of Chicago.
Like Daniel, she was drawn to continuing her academic career at the Wheeler Institute due to a passion for "policy-relevant research." She explains, "I have always aimed to translate my knowledge into real-life solutions through rigorous research targeting problems with development implications. The coursework and research projects I took part in before joining showed me how implementing the right policies to promote business is essential for vulnerable groups and the development of a region's economy."
Creative approach to problem-solving
The chance to work with faculty from different subject areas and using different tools was also a key factor in Bihter's choice of research institutions. She says, "I wanted to come here because the multidisciplinary approach gives me the opportunity to explore different research areas and become creative in solving open-ended questions. I want to immerse myself in working with people from diverse backgrounds and with renowned faculty who have expertise in different subject areas. I'm thrilled to contribute to the research connecting people and creating an impact on individuals' lives. The whole team and faculty have been incredibly supportive, while encouraging us to be entrepreneurial when it comes to conducting research even in an unfamiliar subject area."
Like Bihter, Mike Nuno also studied at Université Paris 1 Panthéon-Sorbonne, but – on the surface at least – his research interest are very different to those of Bihter and Daniel. For his master's thesis he conducted a randomised controlled trial into how climate-signaling affects individual climate behaviour; but, while his main research focus concerns climate change, his broader interests encompass issues such as gender inequality and child poverty. And, like his pre-doctoral peers, he is "incredibly excited" to join the Wheeler Institute and looks forward to making "tangible contributions to ongoing global development efforts."
For his undergrad degree, the Chicago native spent four years at the American University of Paris, obtaining a BA in International Economics. His bachelor's thesis, which investigated the relationship between child labour, concept of self and educational outcomes in Peru, hinted at what was to become the dominant theme of his research interests: global development issues.
During his undergrad degree, he worked at a café, spent time as an au pair, tutored economics and math courses, and volunteered at a Paris-based NGO that provides care for French senior citizens and, before doing his master's, spent a gap year travelling around South America, volunteering for organisations running child education and animal rehabilitation programmes in the Amazon.
Investigating your own research question
The economics courses he did and the experiences he had as an undergraduate inspired him to want to embark on a career in research but, like many at that stage of the academic journey, he didn't know what area he wanted to specialise in, and it wasn't until he began his master's thesis that he hit on a way to do just that: "I became enamoured with the process of creating an experiment to investigate my own question."
That mini epiphany led him to apply to the Wheeler Institute as the best place to pursue his newfound aim: "By joining the Wheeler Institute, I hope to gain considerable exposure to global development issues with the aim of formulating my own important questions and being able to address them in a Ph.D."
So far, so good, it would seem. He says, "The experience I've had is reassuring. Faculty are especially involved and focused on our personal development. I find this incredibly valuable, especially when beginning a career."
---
About the pre-doctoral research assistants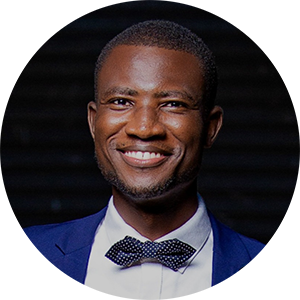 Daniel Sey
Daniel has bachelor's degree from the University of Cape Coast and a master's degrees in economics from the University of Ghana, where he specialised in environmental and monetary economics. His master's thesis investigated the impact of remittance receipts on agricultural asset accumulation in Ghana. His research interests span experimental economics, development economics, environmental economics and applied econometrics, with a particular focus on the application of econometric tools to understand social issues in developing-country contexts. Prior to his academic career, he was an office assistant at Zenith Bank in Ghana.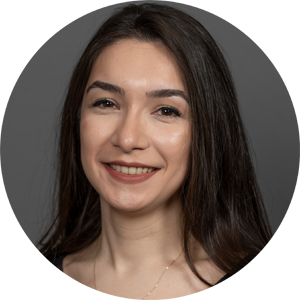 Bihter Erbaş
Bihter holds bachelor's degrees in economics from both Galatasaray University in Turkey and Université Paris 1 Panthéon-Sorbonne in France, and a master's in economics from the University of Chicago, USA. She has worked on projects on poverty and inequality and defended her undergraduate thesis on monetary policy in Turkey. For her master's thesis, she investigated the innovation-adjusted economic complexity and its differential effect on economic growth through the institutional quality of countries. Before starting her academic career, Bihter worked as a research associate at the Economic Policy Research Foundation of Turkey, where she took part in projects on regional development, Turkey-EU relationships, and regional connectivity.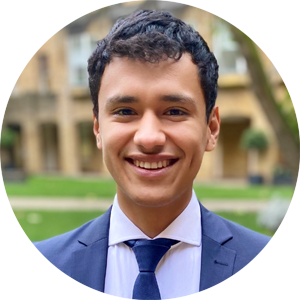 Mike Nuno
Mike has a BA in International Economics with minors in Business and Applied Mathematics from the American University of Paris. For his bachelor's thesis, he investigated the relationship between child labour, self-concept and educational outcomes in Peru.
Mike also holds an M.Sc. in Quantitative Economics obtained through a fully funded two-year Erasmus Mundus Joint Master's Degree programme organised by Université Paris 1 Panthéon-Sorbonne, with semesters spent in Italy, Spain, and Belgium. For his master's thesis, he conducted a randomised controlled trial to investigate how climate-signalling affects individual climate behaviour. Mike also has experience at the U.S. Bureau of International Narcotics and Law Enforcement in Washington D.C., where he interned for a summer in 2018.