In the last few years, there has been a colossal rise in the number of startups that are focused on making a positive impact in the world. These startups are coming up with innovative solutions based on the latest technologies with a dual aim of not only solving the most pressing social and environmental problems but also creating a scalable and profitable business.
London Business School, being a top B-school, also has a long list of alumni who have found successful impact-based start-ups. During the recent Social Impact Conference at London Business School, Sharvan Pethe (MBA 2024) moderated a panel discussion with four such alumni who found their impact startups to explore the joys and challenges of a start-up in the impact sector. The panel consisted of Omid Kamvari (Co-founder, HOM), Gautam Gangooli (COO at Narrative 4), Jules Buker (Founder, Treeapp), and Gaurav Mehta (Founder and CEO, DharmaLife). These start-ups represent a diverse array of businesses within impact sector, ranging from climate change to education and poverty alleviation. The panel brought up valuable insights into the latest trends and initiatives taking place in the sector.
The Balancing Act: Striking a Balance between Impact and Financial Sustainability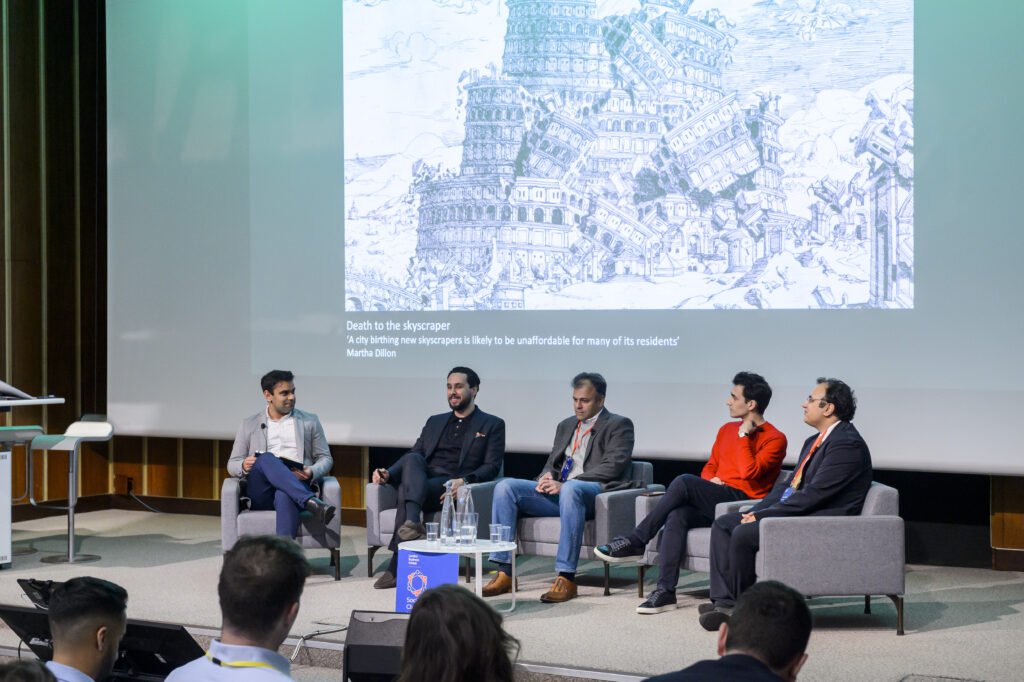 The start-ups working to create an impact have a unique challenge of balancing impact and financial performance, and prioritising one over the other when the situation demands. To achieve this perfect balance, it is important to have clearly articulated goals. The long-term vision of enabling a positive shift in society acts as a guiding light for the start-ups in situations where they are required to pick between impact and profits. The short-term imbalance based on the economic circumstances is not a deterrent, as long as it is on the right path to achieve its impact and financial goals in the long-term. In HOM's case, the long-term vision of creating a new blueprint for housing and redefining the sector takes precedence over achieving a perfect balance of impact and profits in short-term.
The start-ups are, however, sometimes at crossroads and must choose to prioritise their impact mission above financial gain. Treeapp, for instance, consciously chooses not to associate with giant corporates who do not align with the start-up's value system. Having clear communication helps in identifying such inconsistencies between core values and can help avoid any situation of conflict.
Perspective of Corporates
It is becoming increasingly essential for companies to invest in Environmental, Social and Governance (ESG) initiatives and to be more socially and environmentally responsible. Corporates are looking for new companies and startups that can help them implement their ESG budgets by outsourcing such activities. Apart from the regulatory obligations, corporates also have commercial interest in ESG as a method of changing consumer behaviour. For example, prominent consumer goods companies, such as Procter & Gamble, partner with DharmaLife to increase the accessibility of menstruation products for women to expand their consumer base and to comply with ESG targets.
Challenges
The toughest challenge of operating in the impact sector is the lack of a reliable and standardised method to measure the impact and quantify the targets. It is difficult to create an appropriate framework to measure the impact achieved for areas of impact such as social and environmental. Additionally, as technological advancements are taking place and new solutions are created, it is becoming more challenging to define common metrics to measure the success for start-ups. This, in turn, reduces the comparability of the start-ups.
Another big challenge in this sector is achieving a consensus on the desired impact. All stakeholders such as customers, board members, and employees have a different perspective and definition of impact. They have different opinions and values that can create friction while operating a start-up. Therefore, aligning these values and perspectives can be challenging at times.
Emerging Trends
According to Jules, there was previously a lot of focus on offsetting the carbon footprint. However, offsetting is not a long-term solution to fight climate change. Therefore, organisations are now looking beyond offsetting and are interested in solutions that help in carbon reduction, and ultimately in reaching net zero emission. This will potentially create a huge market for cleantech start-ups that focus on reducing emissions.
The biggest change that Gautam has observed is the shift in the perspectives of leadership. As more and more millennials and Gen Z become part of the workforce, questions about social and environmental impact are being raised in front of the leadership. As a result, corporate leaders no longer consider ESG as just a line-item on their annual report, instead they are focused on creating real impact.
Advise from the Founders
Omid suggests that founders have a long-term vision while exploring the feasibility of their idea. As the impact sector is seeing a lot of activities which results in a lot of friction in the sector, it is important to look at a longer-term horizon while implementing a new solution.
According to Gaurav, there is a lot of uncertainty involved in operating a start-up in the impact world. So, it becomes very important to be adaptable and pivot during the times of crisis.
---
About the Social Impact Club
The Social Impact Club supports the development of students in becoming socially responsible business leaders by providing educational, experiential, professional, and networking opportunities to the London Business School community. The club focuses on four main areas: impact investing, sustainability, social entrepreneurship, and foundations / non-profit initiatives.
About the Author
Ritu Yadav (MBA 2024) spent five years in finance roles before enrolling in the MBA programme at LBS. During her five years' experience, she primarily worked with the top global investment banks in multiple roles such as financial reporting, investment deal accounting, and financial advisory. She is passionate about sustainability, impact investing, and technological solutions to address climate change.
---
Related posts