The 21 – 22 June 2023, saw a large delegation of the Ukrainian government attend the Ukraine Recovery Conference. The conference focused on mobilising international support for Ukraine's economic and social stablisation, as well as recovery from the effects of war through emergency assistance for immediate needs and financing private sector participation in the reconstruction process. With the goal of securing a more modern, open and resilient long-term economic future for Ukraine, themes throughout the conference ranged from private sector engagement, infrastructure, and reform and governance. 
The importance of accelerating Ukraine's recovery with rapid investments and innovations was emphasised by the Prime Minister of the United Kingdom, Rishi Sunak. European political leaders were also in attendance and urged investors and businesses to support Ukraine in the long term.
The conference therefore received significant attention with both UK and international businesses having a vested interest in Ukraine's reconstruction. There were an estimated 1000 high-ranking officials from 61 countries in attendance with meetings throughout the week, further highlighting their strong interest in Ukraine's development. 
On Friday 23 June, over 200 guests gathered at London Business School for the Ukraine Recovery Business Day (URBD), an event jointly organised by the European Business Association, the Centre for Economic Recovery, the Wheeler Institute for Business and Development and the London Chamber of Commerce and Industry (LCCI).   
This event brought together Ukrainian, British, and international businesses, associations, as well as professors and students to one of the world's most prestigious business schools. The business-oriented day marked a historic milestone for the Ukraine Recovery Conference, as it aimed to build bridges within the private sector and unite investors in their efforts to contribute to Ukraine's recovery. 
This unique platform provided ample opportunity for discussions, networking, and partnership-building. The conference covered a wide range of topics, including the challenges faced by Ukraine's private firms and their ability to adapt, the role of private capital in the country's reconstruction and modernisation, the impact of the war on global value chains, the green transition, and key lessons for post-war recovery:
Adversity and Adaptation: How Ukraine's Private Firms Endure During Russia's Invasion.
During the opening session of the conference, Dr. Arup Banerji, the Regional Country Director for Eastern Europe at the World Bank, delivered a compelling presentation that provided a profound understanding of the current state of Ukrainian business. The World Bank has, he explained, undertaken the largest survey conducted of the country's business community since the war began, with 2500 businesses taking part in Ukraine, broken into surveys of small, medium and large firms. His insightful analysis effectively dispelled prevailing myths surrounding the impact of the war by showcasing the resilience of Ukrainians.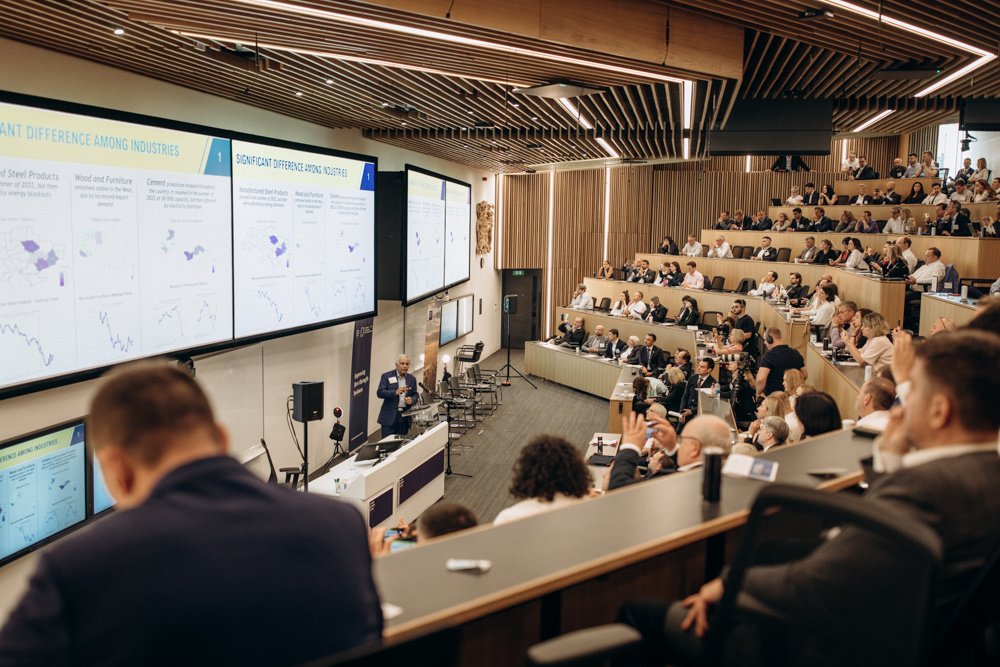 During his address, Dr Banerji explained that high uncertainty levels are usually associated with reduced sales, damages, and reduced employment. In the wake of this devasting war, however, firms in Ukraine have remained resilient with only 3% being closed permanently. The remaining 97% are open or partially open.  He emphasized that even in the face of destructive events, business activities should not come to a halt. Furthermore, Dr. Banerji surprised the audience with impressive return rates observed in specific export-oriented industries in Ukraine, highlighting the country's potential for economic growth.
The position expressed by the World Bank, as one of the most respected financial institutions, deserves high regard. Dr. Banerji's statement, "The World Bank Group is designed to do hard things like helping people rebuild their lives after devastation. With this support, we will keep delivering on that mission and help Ukrainians imagine a life after the war," clearly exemplifies the Bank's dedication and commitment to assisting nations in times of crisis. This steadfast support underscores the World Bank's crucial role in facilitating Ukraine's recovery and future prosperity. Moreover, it was intriguing to witness the dynamic development of Ukraine, which exhibited statistical similarities to the challenging recovery period experienced by the Romanian economy in the 1990s. This parallel offered valuable insights, showcasing that with determined efforts and strategic measures, Ukraine can overcome obstacles and achieve robust economic progress. Read further insights from Dr. Banerji's opening session in our recent Think article.
Private capital in recovery, reconstruction, and modernisation of Ukraine: building a common vision 2033.
Following his opening speech, Dr. Arup Banerji, Regional Country Director for Eastern Europe, World Bank, joined Olena Voloshyna, Head of Office in Ukraine, International Finance Corporation, Lesya Kuzmenko, Associate Director, Deputy Head of Ukraine, ICA (Industry, Commerce and Agribusiness), EBRD, Dmytro Boroday, Partner, Horizon Capital, Dan Pasko, Co-Managing Partner, Diligent Capital Partners, Co-Founder and CEO, Children of Heroes, and LBS Alumnus, John C Patton, Head of EMEA & Asia – Argentem Creek Partners for the first panel of the conference.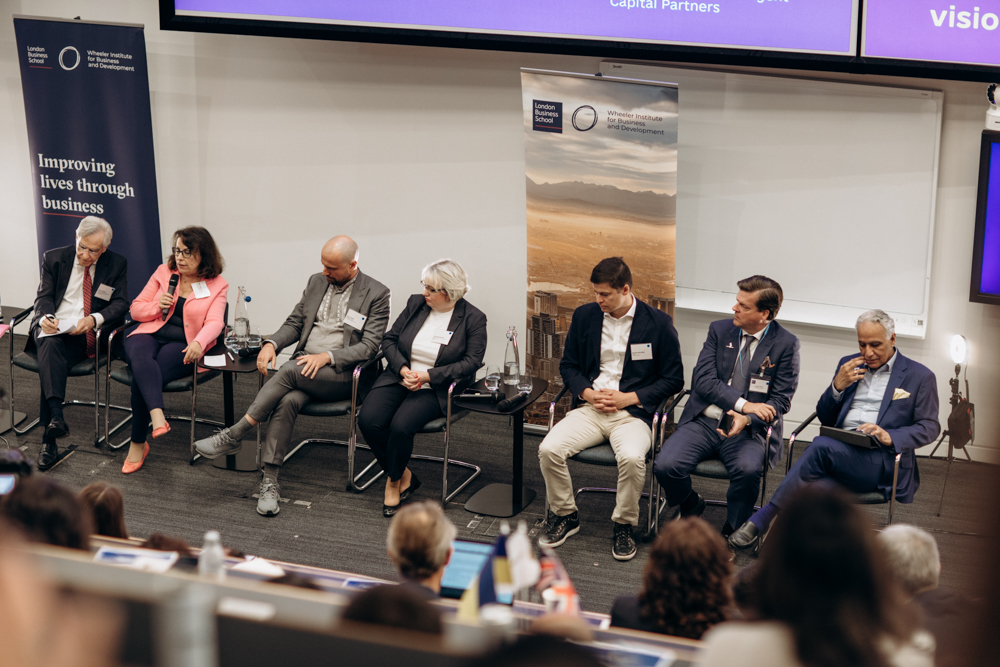 Speakers discussed the way in which collaboration between the public and private sector, IFIs, local and international businesses can generate opportunities for investment and business development through the launch of the recovery, reconstruction and modernisation processes for Ukraine. The panellists explored and reflected on the ways in which Ukraine could strengthen the resilience of the business environment and therefore improve the conditions for an investment boom, which includes solid architecture for war risk investment insurance and better conditions for private capital.
On the subject of equity markets and the importance of these in establishing growth and the continuation of this growth, John C Patton explained how he views the external debt environment both internationally and for the local currency.
Mr Patton highlighted that in the last five years his company, Argentem Creek Partners, a credit-led fund, has invested more than half a billion dollars in Ukraine. Over that time, they returned almost 25% of their investment to their investors, demonstrating that there is a lot of money to be made in Ukraine. "Ukraine is a place with a resilient economy and tremendous human capital which we see every single day. It is a place with a diverse economy with every kind of industry and sector that every large economy has. It is smaller, but in some cases, world-leading. We have found it to be a very fertile place for us to invest."
Rethinking European and global value chains.
After absorbing the insightful macroeconomic forecasts presented by the World Bank, and the panel on the role of private capital for Ukraine's recovery, the conference moved forward to the third panel, which focused on the topic of rethinking European and global value chains.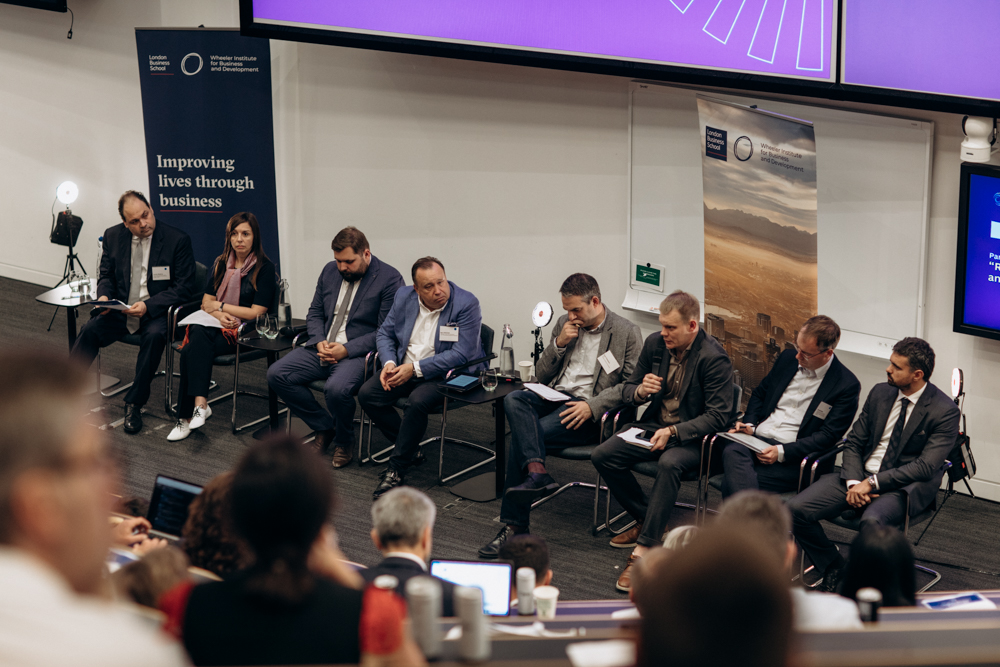 Speakers included Igor Liski, Founder and Chairman of the Supervisory Board, Effective Investments Group, Oleksii Sobolev, Deputy Minister of Economy of Ukraine for Digital Development, Digital Transformations and Digitalization, Paul Cherpeau, CEO, Liverpool Chamber of Commerce, Manuela Gatto, Director, Zaha Hadid Architects, Charles Stevenson, General Manager, JCB London Office, Dmytro Lyvch, Co-founder, Centre for Economic Recovery, Chair of the Board and CEO, EasyBusiness NGO, Frank Neffke, Group Leader Science of Cities, Complexity Science Hub Vienna; Associate, Growth Lab at Harvard University and Igor Dalichuk, President, Chairman of the Supervisory Board, SBK – Slobozhanska Budivelna Keramika. With moderator, James Watkins, Head of Policy and Public Impact, the London Chamber of Commerce and Industry (LCCI).
Among the various perspectives shared, Mr. Liski, a Ukrainian businessman and investor, expressed that the week of conferences in London are pivotal in sowing the seeds of Ukraine's future, and that it is imperative to enhance the investment climate in Ukraine.
He highlighted the importance of increasing financing for the working capital of existing companies and piquing the interest of external investors in Ukraine's infrastructure complexes. His words resonated as a call to action, showcasing the tangible steps needed to foster economic growth and attract much-needed investment. The message that reverberates from the conference is one filled with hope and belief in the immense potential of Ukraine's economy.
Green recovery and green transition.
The subsequent panel proved to be highly captivating, particularly for investors with an interest in the energy market. Panelists included Yaroslav Demchenkov, Deputy Minister of Energy of Ukraine in charge of European integration, Katya Gorbatiouk, Head of Investment Funds, Primary Capital Markets, London Stock Exchange Group, Vanessa Jakovich, Partner, Freshfields Bruckhaus Deringer LLP, Oleh Krykavskyy, Government Relations Director, ArcelorMittal Kryvyi Rih, Vitaliy Radchenko, Managing Partner (Energy & Projects) at CMS Cameron McKenna Nabarro Olswang, Co-Chair of Energy Committee at ACC in Ukraine and LBS Alumnus, David Kotler, Chief Executive and Co-founder, ACCESS Corporate Finance and Chairman, Graham Layton Trust. The session was moderated by Thomas Eymond-Laritaz, Founder and CEO, Highgate.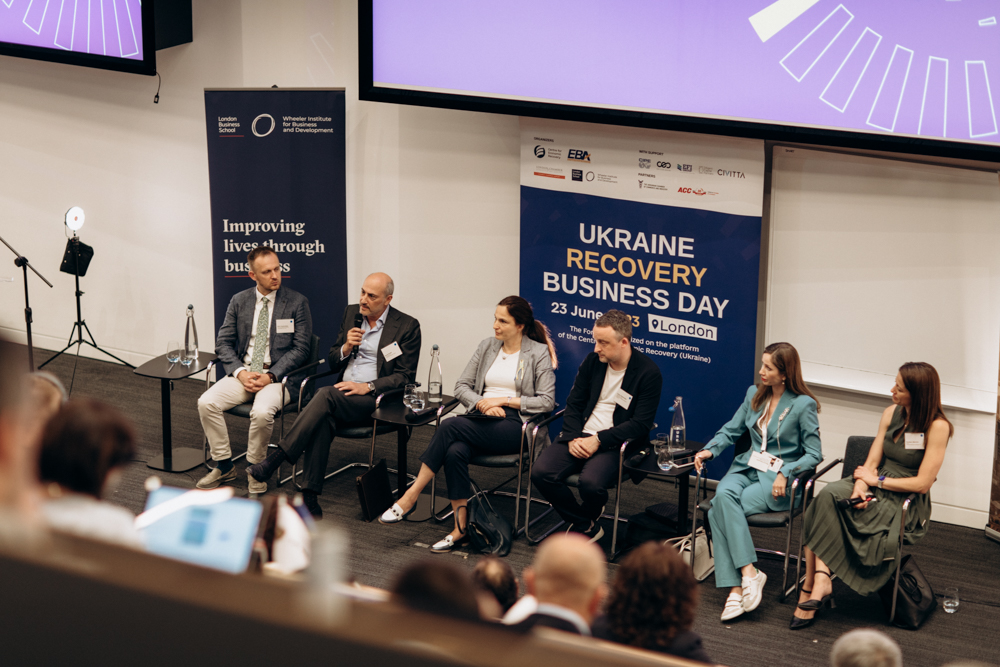 Mr Radchenko delivered insightful remarks based on his extensive experience investing in Ukraine. As a specialist in the field, he offered valuable insights into the Ukrainian energy strategy and expressed intentions to transform the Ukrainian energy market into a European hub. During his presentation, Mr. Radchenko candidly discussed the current challenges faced by the Ukrainian energy market, including infrastructure limitations, investment difficulties, and the need to establish a solid foundation for significant improvement in the investment climate. He shed light on the complexities that must be overcome to attract foreign investors aligned with the goals set forth by the Ukrainian government.
When asked what it would take to meet the targets of the extremely ambitious and visionary programme that was put together by the Ukrainian Government related to investing in the green transition and green recovery, LBS MBA Alumnus, David Kotler highlighted the need for capital from other government organisations outside of the public sector. "The scale of the challenge for Ukraine is extraordinary. 80% of green investment in the developed world comes from the private sector. In emerging and developing economies it is less than 15%. In these economies, you need to have a public sector to provide that capital. The private sector alone will never be able to meet this challenge, so it is going to have to come from other government organisations in order to get things going".
Key insights for Ukraine's post-war recovery: how to make it a success story?
The final part of the business segment included an engaging panel discussion with Vladyslav Rashkovan, Alternative Executive Director at International Monetary Fund, Rajesh Chandy, Co-Academic Director of the Wheeler Institute for Business and Development and Professor of Economics at London Business School, Natalia Otel Belan, Regional Director for Europe and Eurasia, Center for International Private Enterprise, Anna Derevyanko, Executive Director, European Business Association, Oliver Gierlichs, Managing Director and CFO, Bayer LTD, and Kyrylo Kryvolap, CEO, Centre for Economic Recovery. The session was moderated by Sir Andrew Likierman, former Dean and Professor of Management Science and Operations at London Business School.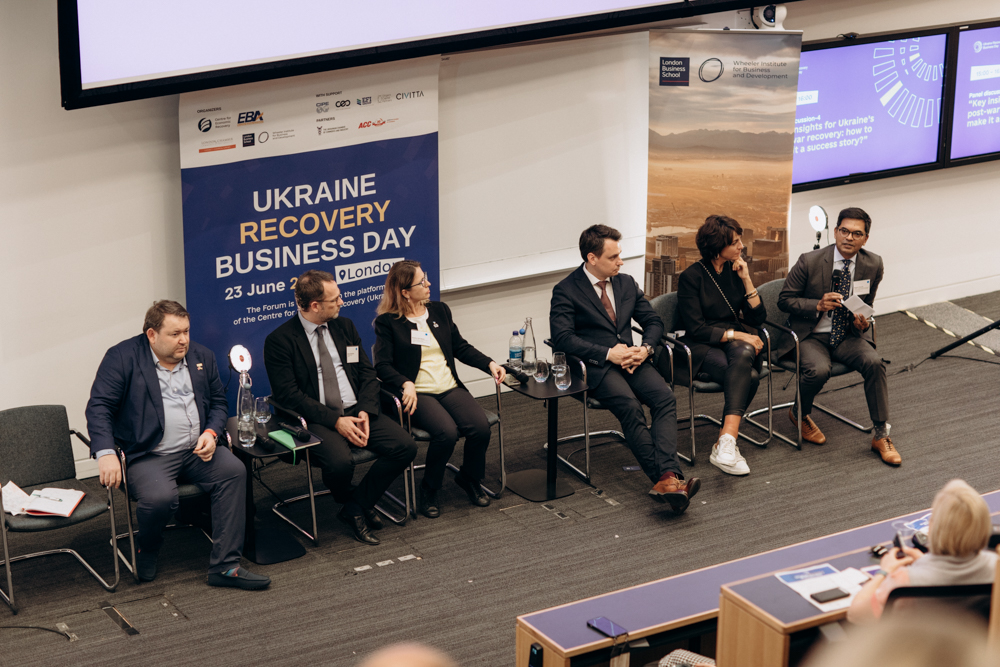 Mr Rashkovan provided valuable insights into post-war development experiences in different nations, emphasising that veteran integration is more effectively implemented in smaller cities.
During this session, macroeconomic forecasts and the challenges facing Ukraine were discussed openly. It was acknowledged that the private sector should become the main driver of investment, despite the existing unanswered questions and lingering uncertainties, particularly pertaining to microeconomic aspects of doing business in Ukraine. However, all participants unanimously agreed that this is a pivotal moment for Ukrainian development, highlighting growth potential and opportunities for investment in post-war Ukraine.
A phrase that captured the session, referenced by Rajesh Chandy was "If you don't have big problems, you don't have a big opportunity", which served as a powerful reminder that challenges can often lead to significant breakthroughs and serve as catalysts for transformative change. Embracing this mindset, we recognise that the difficulties encountered in the wake of war present an opportunity for Ukraine to embark on a remarkable journey of growth and development. Professor Chandy also referred to the famous quote by William Gibson. "The future is already here. It is just not evenly distributed yet." He used this quote to emphasise that sharing our experiences provides glimpses of what the future could hold. Additionally, he highlighted the importance of both negative and positive role models and revealed the key to innovation, which he summarised as "copy, edit, and paste."
Ukrainian charities showcase lasting social impact in event's final session
The final part of the event highlighted the impactful work, achievements, and plans of three Ukrainian private charity funds and civic initiatives, highlighting their commitment to creating social impact.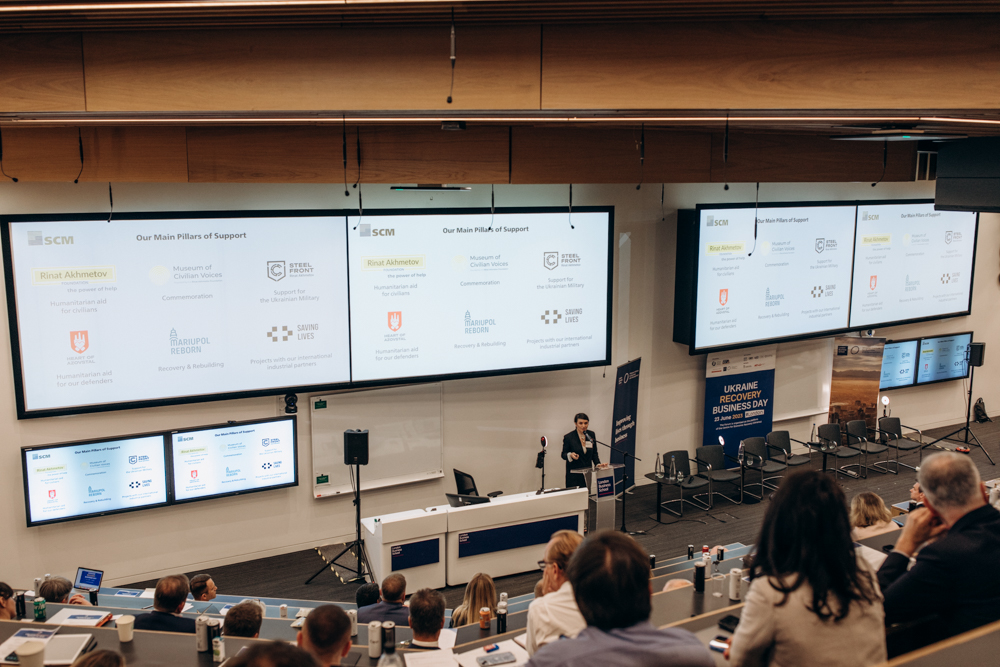 Superhumans Center: This state-of-the-art medical center specialises in prosthetics and reconstructive surgery for individuals injured during the war. The center's primary objective is to provide exceptional prosthetic limbs and rehabilitation services to those affected by the conflict for no cost. The support of influential individuals such as the First Lady of Ukraine, Olena Zelenska, and the Minister of Health of Ukraine, along with the endorsement of esteemed figures like Howard G. Buffett, Richard Branson, and Sting, demonstrates the transformative nature and widespread support for this initiative.
Children of Heroes Charity Fund: This organisation focuses on supporting children who have tragically lost their parents during the war; offering assistance until they reach adulthood. The fund operates across six key areas, including psychological and legal support, financial aid, medical care, emergency assistance, and socialisation.
Social initiatives of System Capital Management: The Saving Lives project provides essential supplies of food, hygiene products, and medicines to vulnerable segments of the Ukrainian population It also focuses on prosthetics and rehabilitation for Ukrainian war veterans, supporting their reintegration into society and offers psychological rehabilitation for women and children, with a specific emphasis on empowerment.
These initiatives demonstrate the profound commitment of Ukrainian organisations and individuals to address the pressing social needs arising from the war. Their dedication to providing medical care, rehabilitation, housing, psychological support, and educational opportunities serves as an inspiration to all.
---
About the authors
Roman Rusakov
Before joining London Business School, from 2014 to 2022 Roman Rusakov managed Grain commercial departments of leading companies in the Black Sea region. His attentiveness is riveted on expanding commodity supply chains in emerging countries and scaling up trading processes in capital markets.
Iryna Derevianko
Iryna Derevianko spent four years in investment banking in Ukraine before coming to London Business School. During her time in investment banking, she specialized in sovereign advisory on state debt management with the Ukrainian Ministry of Finance, as well as M&A advisory to corporations in the industrials, technology, and pharmaceutical sectors. Iryna's passion lies in fostering conducive institutional and investment environments that drive private sector growth and performance in developing countries.
---
Related Posts